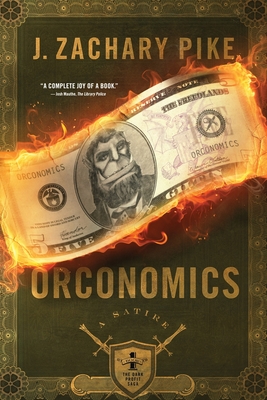 Orconomics
A Satire
Paperback

* Individual store prices may vary.
Description
High Comedy Meets High Fantasy in an Award-Winning, Best Selling Satire
Winner for Humor and Finalist for Fantasy in the 10th Annual National Indie Excellence Awards

"Fight, kill, loot, get credit. Repeat until you're dead."

The adventuring industry drives the economy of Arth, where professional heroes are hired to risk their lives to slay fantastic creatures. After said slaying, the loot gets hauled back and divided among investors, banks, plunder funds, adventurers, and the Heroes' Guild. This works out well for everyone but the Shadowkin--Orcs, Goblins, Kobolds and the like--who must apply to become Noncombatant Paper Carriers (or NPCs) to avoid being killed and looted by heroes.

When Gorm Ingerson, a disgraced and drunken Dwarven ex-hero with a checkered past, stands up for an undocumented Goblin, he is forced to accept a suicidal quest to save himself and his new friend from certain death. With one shot at redemption, Gorm must get his party of eccentric misfits to stop fighting each other long enough to recover a stolen treasure and stay one step ahead of the powerful organizations showing an unusual interest in their progress. Through a series of unfortunate choices and with the guiding hand of an insane goddess, Gorm inadvertently sets off a chain of events that will change his life--and the world--forever.
Gnomish Press LLC, 9780990859628, 362pp.
Publication Date: November 22, 2014