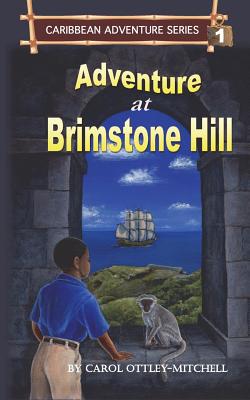 Adventure at Brimstone Hill
Caribbean Adventure Series Book 1
Paperback

* Individual store prices may vary.
Description
Join Mark, Kyle and Ingrid on their very first adventure as they follow a mischievous monkey through a secret passage at the Brimstone Hill Fortress National Park in St. Kitts.
They find themselves transported to the 18th century, captured as spies and thrown into a fierce battle between the British and the French for this famous fort.
About Brimstone Hill
Brimstone Hill is a UNESCO world heritage site located in St. Kitts. It was built by the English in the early 18th century to defend the island. It stands today as one of the best preserved historical fortifications in the Americas. www.brimstonehillfortress.org About the series: This is the first book in the Caribbean Adventures Series, a series initiated and written by Carol Mitchell. The series chronicles the magical adventures of three children in the Caribbean. For more information, see www.caribbeanadventureseries.com
Cas, 9780990865933, 118pp.
Publication Date: November 10, 2014