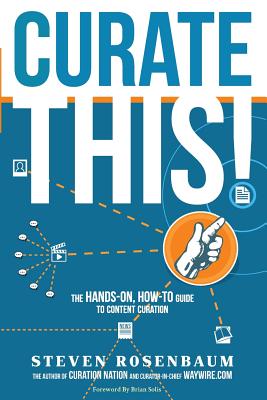 Curate This (Paperback)
The Hands-On, How-To Guide to Content Curation
Magnify Media, 9780990884514, 364pp.
Publication Date: October 25, 2014
* Individual store prices may vary.
Description
The concept of "Curation" has rapidly moved from museums to mainstream media. As the sheer volume of Tweets, Likes, Blogs, YouTube videos, and emails overwhelm the web, publishers and brands are increasingly being asked to provide a human face to content organization and editorial curation. With the right framework, curation can be a powerful tool to help editorial meet new challenges.
About the Author
Steven Rosenbaum is an Author, Entrepreneur and Curator. He's founded five companies in the content space, with a drive to connect consumers, storytellers, and brands. Rosenbaum is known as the father of UGC (user-generated content) as the creator of the groundbreaking series MTV News Unfiltered. A sought after speaker, Rosenbaum's passion for the emerging content ecosystem has had him presenting to audiences across the US and Abroad. Talks include SXSW, TED, BBC, IEEE Globecom, DLD, IAB, Pivot, Digital Now, DevLearn, Tools Of Change and the Monaco Media Forum. His weekly writing includes a column for Forbes.com and Huffington Post Technology. As well as regular contributions to Fast Company, Columbia Journalism Review, Business Insider, Mashable and The Atlantic. As an inventor, Rosenbaum's passion for curation and content discovery innovation resulted in two foundational inventions, and the awarding of two patents in the areas of video curation and advertising technology. Just a year after YouTube was founded, Rosenbaum filed Patent No. 8,117,545 "Hosted video discovery and publishing platform" which was granted in 2012. And in 2014 Patent No. 208,812,956 "Video curation platform with pre-roll advertisements for discovered content" Rosenbaum is the CEO of Waywire.com a video curation and channel aggregation web site that was founded by Senator Cory Booker. Rosenbaum's Magnify.net purchased Waywire in October 2013, and brought together the two technologies and operations. As a filmmaker and long-form storyteller Rosenbaum directed the documentary feature "7 Days in September" a look at 9/11 and the week after. The film has a rare 100% Tomatometer rating on Rotten Tomatoes. Rosenbaum also created the CameraPlanet 9/11 Archive, an archive of footage from September 11 and its aftermath which he donated to the National 9/11 Memorial Museum. Rosenbaum has received 2 Emmy Awards, 6 New York Festival's World Medals, 4 CINE Golden Eagles, and 6 Telly Awards. Rosenbaum won an Emmy Award for BROADCAST: New York and then created the series MTV News UNfiltered for MTV, an early example of viewer-generated content in broadcast. "News Unfiltered" encouraged people film their own stories. Rosenbaum was New York City's first Entrepreneur at Large working with New York's startup community and NYCEDC, and Rosenbaum was named Purdue University Science Journalism Laureate in 2011.