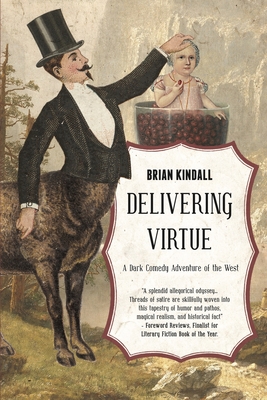 Delivering Virtue
A Dark Comedy Adventure of the West
Paperback

* Individual store prices may vary.
Other Editions of This Title:
Hardcover (11/7/2015)
Description
A magnet for trouble. A dubious destiny. His quest for true love could succeed, if only his moral compass didn't point South.
The American West, 1850. Former French dandy Didier Rain's weakness for saloon girls, money, and whiskey keep derailing his plan to join the pantheon of epic poets. So, when he's approached by holy men claiming he's part of a prophecy, he agrees to transport an infant bride for a soul-selling sum of $30,000. But to fulfill his foretold role, he'll have to succeed at two tasks at which he's always failed: keeping the cork in the bottle and his pants buttoned.
Unable to resist lustful impulses and outrageously depraved detours, Rain wreaks havoc through his augured misfortunes. Riding the treacherous pioneer landscape, his non-existent survival instincts send him down a trail littered with his own sin and probable doom.
Will Rain's questionable care deliver the girl to her groom unsullied by his unsavory pursuits?
Delivering Virtue, A Dark Comedy Adventure of the West is the first book in the sublimely twisted historical magical realism series, The Epic of Didier Rain. If you like absurdist fiction, witty wordplay, and sordid humor, then you'll love Brian Kindall's quirky foray into a reimagined American Frontier.
Buy Delivering Virtue to teeter on a tightrope between the dastardly and the divine today
Diving Boy Books, 9780990932864, 266pp.
Publication Date: November 7, 2015
About the Author
Brian Kindall is the author of books for both adults and young readers. He knows that the best books are those joining the finest qualities of literature with large doses of adventure. To this end, he crafts his stories with vivid, evocative writing, peopling them with one-of-a-kind characters that will pleasantly haunt the reader well after the book is finished. He draws his inspiration from the classics and popular genres alike, and from the magic he senses lying beneath the surface of life. He does his best to tap this magic and mystery for his novels. In the years in which he was learning to write, Brian worked such adventurous jobs as whitewater raft guide, and as packer for a backcountry hunting camp - experiences which have worked their way into his books. When he's not busy at his desk, you can find him hiking and skiing in the mountains of Central Idaho where he lives with his wife and three kids on the shores of Payette Lake.