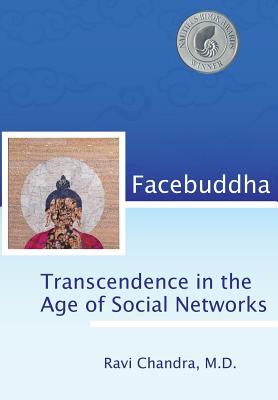 Facebuddha
Transcendence in the Age of Social Networks
Hardcover

* Individual store prices may vary.
Description
Winner of the 2017 Nautilus Silver Award for Religion/Spirituality of Eastern Thought
Facebuddha: Transcendence in the Age of Social Networks is a rich modern Asian American cross-cultural memoir of relationship online and off, an exploration of psychological research about social media, and an engaging introduction to Buddhism. We are who happens to us, and what we make of that happening. Who do we become when we try to relate online? What happens to our mind and heart? Ravi Chandra is a psychiatrist and Buddhist who values conversation, relationship and their ultimate goals: love and the feeling of society. In these politically charged and divided times, how can we connect? Social media offers many inspiring possibilities. Facebook has become popular because we need belonging, meaning and self-expression. But our time on social media is a bardo, or dream-realm, that has traps for our habitually and unconsciously self-centered egos, which Chandra describes thoughtfully and with humor.
We have a Find my iPhone app - but we need to find our "I". Who am I, and who do I become when I engage on social media? How do I come to myself and my highest, most transcendent possibilities? How do I cultivate wisdom, compassion and love in this shrinking world that threatens to tear itself apart?
Chandra writes, "Social media is not just a medium. It is a new religion. The Tweet is our Call to Prayers. We thumb our Phones like Rosaries. Food Porn is our Communion and our Offering to the Cloud. The Status Update is our Sermon on the Mount. The Selfie our personal Anointment and Beatification. Facebook Messenger is our Messiah. The Apple Store is our modern Cathedral, our Silicon Sanctuary. New Emoji are released to the fanfare of a new Pope." Where is this religion taking us?
Thoughtful, humorous, engaging and enlightening, Facebuddha will be a conversation starter for years to come.
A journey through the wilds of relationships, from a rooftop in Hanoi to a village in India, from the streets of San Francisco and Japan to the blue Wall of Facebook, culminating in transformative spiritual experience. Facebuddha will make you smile, laugh and think differently about the world we share.
Praise For Facebuddha: Transcendence in the Age of Social Networks…
"I heartily recommend Facebuddha, a wonderfully written, exciting and at times elegiac and rhapsodic presentation of the potentials and difficulties of connecting in relationship – especially in our modern age of technology and as seen through a Buddhist lens. Ravi Chandra is a wonderful storyteller, a psychiatrist, a Buddhist student and teacher, an Asian American, and an able, eloquent writer with the capacity and personal experience to address all the contemporary issues this book brings together. I think Facebuddha will be inspiring to many, many people."
Sylvia Boorstein, Ph.D., Buddhist teacher and author
Co-founder, Spirit Rock Meditation Center

"Facebuddha is both personal journey and social commentary, a good-hearted meander across cultural, artistic and occupational worlds that explores a deep concern for our modern dilemmas with the perspective of a devoted Buddhist."
Jack Kornfield, Ph.D., Buddhist teacher and author
Co-founder Spirit Rock Meditation Center

"Facebuddha is magnificent, a breathtakingly personal work that combines memoir, media commentary, Buddhist practicum and depth psychology. Like Martin Luther's theses, these chapters are nailed on the door of the Cathedral of Technology asking us to look beyond our screens by way of reforming contemporary indulgences. As we do so our world moves beneath the surface sheen and towards the interior. Ravi Chandra's effervescent prose locates compassion, in his own soul and in the soul of humanity, in real world relationships endangered by modernity. "
F.B. Steele, M.D., psychiatrist and teacher
Former Executive Director, C.G. Jung Institute of San Francisco

"A very personal, often funny, warmly intelligent, thoughtful and heartfelt journey to transcendence!" – Tamlyn Tomita, actor

"An exhortation to cultivate genuine love, kindness, and compassion." – Deann Borshay Liem, director and producer

"Thought-provoking, engagingly written, and enriched by memoir and haiku-like stories and vignettes." – Francis Lu, M.D.

"Poetic and poignant! Ravi Chandra portrays the importance of truly relating to people." – Louise Nayer, author of Burned: A Memoir

"Facebuddha is an invitation to depth and personal growth." – Stephen Gong, Executive Director, CAAM
Pacific Heart Books, 9780990933922, 412pp.
Publication Date: October 10, 2017
About the Author
Ravi Chandra, M.D., is a psychiatrist and writer in San Francisco. He is a Distinguished Fellow of the American Psychiatric Association. Facebuddha is his nonfiction debut. He blogs regularly for Psychology Today (The Pacific Heart) and for the Center for Asian American Media (Memoirs of a Superfan). His ebook on Asian American Anger is available for free download. He was published in the award-winning anthology of South Asian American Poetry, Indivisible, and his first book of poetry, a fox peeks out, won Honorable Mention at the San Francisco Book Festival. Details and more writing at www.RaviChandraMD.com.