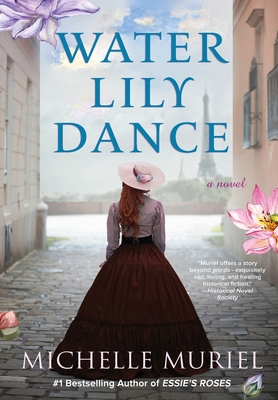 Water Lily Dance (Hardcover)
Little Cabin Books LLC, 9780990938354, 426pp.
Publication Date: August 20, 2019
* Individual store prices may vary.
Description
Obsession. Rivalry. Revolution. From the bestselling author of Essie's Roses, a heartbreaking, heart-mending new historical novel. The lives and secrets of three women, centuries apart, intersect at the artist Claude Monet's garden in Giverny in this emotional, imaginative portrait of loss, love, and second chances.
"A brilliantly penned and original novel showcasing the extraordinary talent and genuine flair of a distinctive narrative storytelling style . . . a] riveting read from beginning to end . . ." - Midwest Book Review
". . . a fantastic air of reinvention to this deeply emotional and sensitive tale . . . a highly recommended read." 5 stars - Readers' Favorite
"Author Michelle Muriel delights readers once again . . . Water Lily Dance is more than a mere novel that happens to revolve around an Impressionist artist. It is a wonderfully written . . . moving portrayal of the strength and resilience of women." - Feathered Quill Book Reviews
The greatest loss we may ever experience is that of ourselves.
From the author of the award-winning, bestselling Essie's Roses comes an imaginative, emotional portrait of the secret side of grief and the deep bonds and secrets between mothers and children. Three women centuries apart set out to escape a colorless life, connected by one of the most controversial, beloved artists in the world: Claude Monet. But at what cost?
Missouri, 2014. Sophie Noel, an emerging artist and daughter of renowned artist Josephine de Lue, holds an extraordinary imagination, but a year after the unexpected deaths of her father and husband, she cannot imagine a way to "move on" from loss--or the buried childhood memory trying to resurface that would have torn her family apart. To cope with grief and the temptation to leave it all behind, Sophie escapes into a painted world of color and light venting her anxiety to an old childhood friend--an imaginary one: French Impressionist artist, Claude Monet.
Paris, 1865. Camille Doncieux is captivated by the rebirth of Paris and the rebellious artists who wage war against tradition and the government's censorship at the annual art exhibition at the Paris Salon. Behind the windows of her father's luxurious dress shop, Camille plots a rebellion of her own after meeting three bold artists who will change her life forever: Claude Monet, Auguste Renoir, and Fr d ric Bazille. But in Paris, where a young woman's life is ordered and controlled, a family secret and Camille's quest for love and fame may cost her everything, perhaps even the man she loves.
From an eclectic town in Missouri to the stunning backdrop of 19th-century Paris at the height of the Impressionist art movement, Water Lily Dance is a heartbreaking, heart-mending tale of loss, love, and second chances.