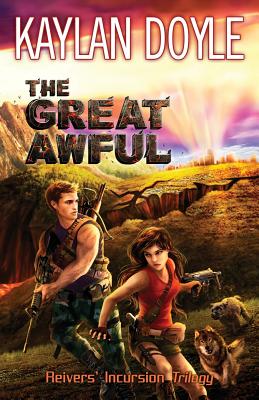 The Great Awful (Paperback)
Chronicles Publishing, 9780991012305, 326pp.
Publication Date: July 31, 2014
* Individual store prices may vary.
Description
When Devastation, Plague and Inhumanity attack, a young woman struggles to survive... Who to Trust? Who to Kill? First Book in the Dystopian REIVERS' INCURSION thriller series by KAYLAN DOYLE......... Katie Davis and her mother are alone the night a series of earthquakes rocks their isolated home. In the valley below Katie's house, an erupting volcano spews lava, incinerating everything in its path. Power grids explode and communications systems fail. The earthquakes force an ancient meteor up through the earth's surface, bringing yet another disaster. Something ... far greater than nature ... is responsible. Katie and her mother have no way to know the police are dead. No way to know inmates have escaped from jails and institutions and that people are fleeing populated areas. For years, Katie has asked why they hide. For years, her parents have refused to explain while her military father trains her in weapons use and combat skills, with the expectation that she will protect her emotionally fragile mother. Like the malevolent meteor, Katie's training surfaces ... with deadly intent. Pushed to the breaking point, how far will she go? What is she willing to do to survive?