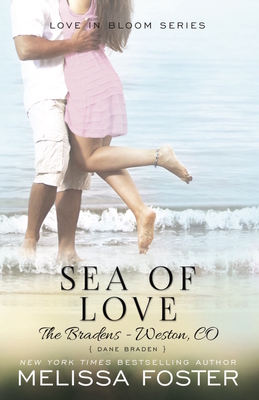 Sea of Love (Love in Bloom (Paperback)
The Bradens): Dane Braden
Everafter Romance, 9780991046812, 390pp.
Publication Date: December 11, 2013
* Individual store prices may vary.
Description
Voted BEST BOOK SERIES by Supportive Business Moms, UK In SEA OF LOVE...
Lacy Snow wasn't looking for love when she met strikingly handsome and seductive Dane Braden. But how could she ignore the six-foot-three darkly handsome god who tagged and researched sharks for a living--and made every nerve in her body tangle into an overly sensitive knot? Even her fear of sharks could not suppress their intense attraction. As founder of the Brave Foundation, Dane Braden travels from port to port, educating and advocating on behalf of the mammals he adores--and spends his nights finding solace in the arms of strangers. The last thing Dane was looking for when he met Lacy Snow was a relationship, and the last thing he expected was to fall in love. Fifteen months--and hundreds of flirty emails, steamy phone calls, and sensual video chats--later, they reunite and take passion to a whole new level. But as Lacy's phobia meets Dane's past love life, their steamy romance is upended, and when tragedy strikes, Dane and Lacy are forced to face their deepest fears head-on as they try to navigate their own sea of love. **BONUS** Includes the first chapter (sneak peek) of Bursting with Love (Savannah and Jack). SEA OF LOVE is part of the Love in Bloom series. While SEA OF LOVE can be read as a stand-alone novel, for even more reading enjoyment you may want to read the entire Love in Bloom series in series order. READ THE FULL LOVE IN BLOOM SERIES: SNOW SISTERS: Sisters in Love, Sisters in Bloom, Sisters in White THE BRADENS (Weston, CO): Lovers at Heart, Destined for Love, Friendship on Fire, Sea of Love, Bursting with Love, Hearts at Play THE BRADENS (Trusty, CO): Taken by Love, Fated for Love, Romancing My Love, Flirting with Love, Dreaming of Love, Crashing into Love THE BRADENS (Peaceful Harbor, MD): Healed by Love (Nate), Surrender My Love
Coming Soon - River of Love THE REMINGTONS: Game of Love, Stroke of Love, Flames of Love, Slope of Love, Read, Write, Love
Coming Soon - Touched by Love SEASIDE SUMMERS: Seaside Dreams, Seaside Hearts, Seaside Sunsets, Seaside Secrets, Seaside Nights, Seaside Embrace
Coming Soon - Seaside Lovers THE RYDERS: Seized by Love
Coming Soon - Claimed by Love, Chased by Love.