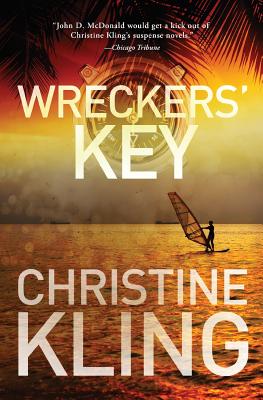 Wreckers' Key
Paperback

* Individual store prices may vary.
Description
From harbors of Key West to the wilds of Biscayne Bay to the night lights of Miami, Kling's tough-minded heroine has carved out a life that is uniquely her own. Now, in WRECKERS' KEY, the fourth book in the series, this fiercely independent woman is at a turning point . . . and in a dangerous duel with an unseen enemy. Before Key West was the party capital of the Florida Keys, it was built by wrecking skippers who in feats of derring-do raced to shipping disasters to save valuable cargos from the ocean depths. But when a friend is killed, Seychelle begins to suspect a chilling scenario: that modern-day wreckers are causing yachts to crash onto the reefs-and killing off whoever gets in the way. Seychelle's dear friend Nestor Frias was piloting a billionaire's luxury power yacht on its maiden voyage when it ran up on a reef. A few days later, Frias was dead. His eight-months-pregnant widow Catalina is distraught, and a host of questions surround both Frias's death and the ship's accident. When Cat turns to Seychelle for help in proving Nestor was murdered, Seychelle embarks on a dangerous course through the shoals and channels of the case and her life, unaware that a greater danger is looming: a murderous human storm designed perfectly for her.
Tell-Tale Press, 9780991050819, 372pp.
Publication Date: October 16, 2014
About the Author
Christine Kling has spent more than thirty years messing about with boats. It was her sailing experience that led her to write her first four-book suspense series about Florida female tug and salvage captain Seychelle Sullivan. Christine earned an MFA in creative writing from Florida International University and her articles, essays, and short stories have appeared in numerous magazines and anthologies. The first novel in the Shipwreck series, Circle of Bones, was released in 2013, and Dragon's Triangle (2014) continues the adventures of Riley and Cole. Having retired from her job as an English professor at Broward College in Fort Lauderdale, Christine lives aboard a 52-foot motorsailor with her family including Barney, the Yorkshire Terror and Ruby, the Wonder Dog.
or
Not Currently Available for Direct Purchase