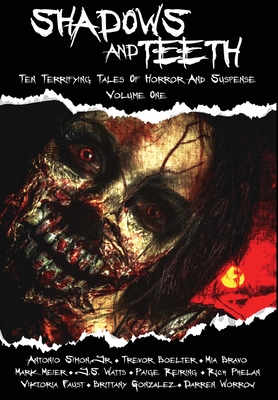 Shadows And Teeth
Ten Terrifying Tales Of Horror And Suspense, Volume 1
Hardcover

* Individual store prices may vary.
Other Editions of This Title:
Paperback (4/30/2017)
Hardcover (4/30/2017)
Paperback (4/30/2016)
Description
Prepare for extreme horror. You have in your hands the first volume in our award-winning series. This unique collection of ten stories features a range of international talent: award-winning authors, masters of horror, rising stars, and fresh new voices in the genre. Take care as you reach into these dark places, for the things here bite, and you may withdraw a hand short of a few fingers.
Water, Ice, And Vice, by Antonio Simon, Jr.
--Jeremy's new apartment harbors a demonic wish-granting fridge, which he uses to exact bloody vengeance on his obnoxious roommate.
The Dinner Party, by Trevor Boelter
--A dinner party devolves into a massacre when the blood flows as freely as the wine.
Routine, by Mia Bravo
--Edward's life is neat and orderly, just the way he likes it. It doesn't stay that way for long once bizarre apparitions threaten to end his life, and worse - break his daily routine.
The Final Spell, by Mark Meier
--Ken, a modern-day wizard, risks life and liberty in pursuit of the ultimate magick. How far will he go to obtain limitless power?
Back Through The Mist, by J.S. Watts
--Police Sergeant Comberton's investigation of a baffling murder strains her resolve to its breaking point. When the enquiry takes an otherworldly turn, she questions whether the past holds the key to her future.
Spawn, by Paige Reiring
--Assassin-for-hire Alice's personality is so keen, it can kill. She'll need every edge she can get when the hunter becomes the hunted.
The Pied Piper's Appetite, by Rich Phelan
--A competitive eater leads a ghastly double life in pursuit of a gruesome personal crusade.
Riana In The Gray Dusk, by Viktoria Faust
--A hastily taken photograph leads to a shocking revelation and a rare glimpse at a singular individual.
The Autobiography Of An Unsuccessful Author, by Brittany Gonzalez
--A one-hit-wonder's search for inspiration blurs the line between reality and insanity, with horrifying results.
Crying, by Darren Worrow
--Vinny's research into an urban legend about a haunted painting reveals more about himself than he ever dared to ask.
Darkwater Syndicate, Inc., 9780991074594, 276pp.
Publication Date: February 24, 2017
or
Not Currently Available for Direct Purchase