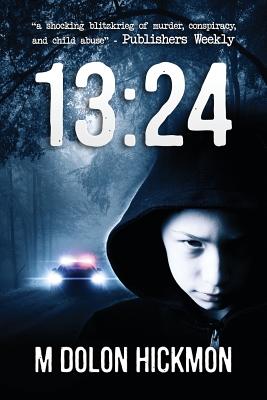 1324 (Paperback)
A Dark Thriller
Rehoboam Press, 9780991106608, 376pp.
Publication Date: March 25, 2014
Other Editions of This Title:
Hardcover (3/25/2014)
* Individual store prices may vary.
Description
THE UNFORGETABLE, RIPPED FROM THE HEADLINES THRILLER HONORED WITH A STARRED REVIEW IN PUBLISHERS WEEKLY'S BEST BOOKS OF 2014 SPECIAL ISSUE
"Hickmon unleashes a shocking blitzkrieg of murder, conspiracy, and child abuse in this disturbing, breathlessly plotted murder mystery ...] Eschewing easy answers for moral complexity, this thriller is unsettling entertainment that offers catharsis." -- Publishers Weekly

An Amazon Kindle Best-Seller in Vigilante Justice Thrillers
Detective William Hursel has worked countless murder cases, staring down the cruelest deeds humanity has to offer. But nothing prepares him for what he'll uncover while pursuing 14-year-old Christopher Pesner, a suspect in the brutal rage-killing of his own mother. While news reports focus on Chris's odd obsession with the violent, blasphemous heavy metal band, Rehoboam, Hursel suspects a deeper motive -- a hunch that is confirmed when Chris's second victim is discovered. Racing to piece together the identity of Chris's next target, Hursel descends into a shadowy underworld where human traffickers ply the wealthy and powerful with unseemly indulgences.
"intensely involving as the plot hastens to its climax" -- Kirkus Reviews
"succeeded in unnerving me" -- Darkness Beckons
"a hard-hitting, emotionally charged crime story" -- Midwest Book Review
"Riveting and appropriately disturbing from cover to cover" -- San Francisco Book Review
"doesn't let go till the end" - Fresh Fiction
Best Seller in Vigilante Justice Thrillers Recorded July 2016 - http: //archive.is/q67iM
Reviewed on Page 66 of Publishers Weekly December 2014 "Best Books" annual http: //www.digitalpw.com/digitalpw/bestbooks2014?folio=66&pg=1#pg1