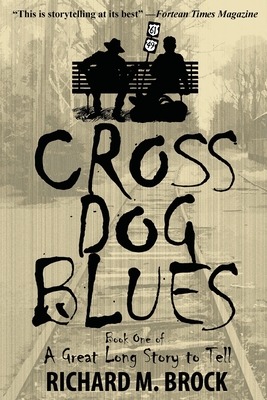 Cross Dog Blues
Book One of A Great Long Story to Tell
Paperback

* Individual store prices may vary.
Description
AMAZON BEST SELLER in Historical Fiction and Historical Thrillers
AMAZON #1 BEST SELLER in Blues
AN ADVENTUROUS AND POWERFUL NOVEL about how, and more importantly why, from the cotton fields of Mississippi, blues music changed the world, and how the world changed one young man.
"...this is storytelling at its best..." -- Fortean Times Magazine
"...poignant...heartening...insightful..." -- Kirkus Reviews
In 1915, in a moonlit room in a boarding house in Texas, Charlie Patton -- the enigmatic inventor of blues music -- founds a shadowy alliance with Huddie 'Lead Belly' Ledbetter and Blind Lemon Jefferson. A pact is made, and the seeds of revolution are sown. Back at the Dockery Plantation in the Mississippi Delta, with the help of the likes of Son House, Howlin' Wolf, Robert Johnson, and others, Charlie's plan spreads across the South, and then across the country. But these bluesmen have no way of knowing where this dangerous road will lead. Nor do they know the Ku Klux Klan is watching.
In 2002, Franklyn O'Connor -- an adventurous and penniless youth -- sits at a lonely bar in the train station of his small upstate New York hometown holding a one-way ticket to the Crossroads in the Mississippi Delta. There he hopes to track down his deadbeat father, who walked out on his family when Frank was five. With nothing but his rucksack and the unsolicited assistance of a little old man called Furry Jenkins, Frank soon unwittingly drifts into the middle of a combustible racial feud at the intersection of a still divided society. A shocking truth waiting down the line.
With the rambling pioneers of blues music leading an unforgettable cast of characters, this raw, rousing and often hilarious breakout novel delivers a breathtaking view of life, livin', love and hate in America in the 20th century, and the mysterious beginnings of the music that provided the soundtrack for it all...THE BLUES.
Praise For Cross Dog Blues: Book One of A Great Long Story to Tell…
"Chock-full of poignant passages and insightful dialogue about the deep, affecting power of music." Kirkus Reviews

"Richard M. Brock paints a gripping, funny and often harrowing picture of life in the Delta, then and now. Artfully combining fact and fiction, this is storytelling at its best, with a plot that surprises at every twist and turn." Steve Marshall, Fortean Times
Bogie Road Publishing, 9780991132027, 258pp.
Publication Date: April 6, 2015