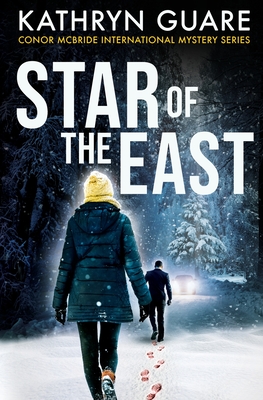 Star of the East
Paperback

* Individual store prices may vary.
Description
In the first week of December, the snow is working its fairytale magic and holiday guests are streaming in, but at their cozy bed-and-breakfast in northern Vermont, Conor McBride and Kate Chatham are struggling to find some Christmas spirit.
As part-time operatives, they're trained for unexpected developments, but their current troubles have nothing to do with undercover work. Overwhelmed by meddling relatives, an engagement party they didn't want, and their own short tempers, they'd welcome any stress-relieving antidote. They just didn't expect it to appear in the form of stolen treasure, buried in a bloody mound of snow on a deserted back road.
Their startling discovery quickly turns to unstoppable escapade, and unlike others Conor barely lived through, it feels like a Sherlock Holmes caper more than any MI6 enterprise. In pursuit of an unknown thief, the mystery sends him north to the border, teamed with a deceptively folksy police chief, and a sergeant from the Royal Canadian "Mounties" who's keen for the adventure. While they follow a trail of clues into the mountains of Quebec, Kate remains in Vermont to identify the treasure and its owner. Working with an eccentric gem expert and two FBI agents, she learns its incredible history points directly to Fifth Avenue, and one of the most celebrated names in New York. Once there, Kate uncovers an international connection that raises the stakes beyond anything they'd imagined.
The game is afoot and every bit the distraction they wished for, but as Conor chases their elusive thief up the St. Lawrence Seaway and into the teeth of a blizzard, the odds of missing his own engagement party grow with every mile. Even more troubling, the whispered warnings of his sixth sense are proving once again prophetic. Their escapade is turning deadly, looking more like an MI6 mission, after all. Now, he and Kate will need all their operational skills to finish what they started, and to make it home alive.
Kathryn Guare, 9780991189397, 228pp.
Publication Date: November 26, 2021