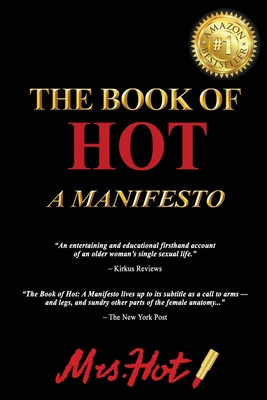 The Book of Hot (Paperback)
A Manifesto
Written Warrior Press, 9780991205196, 366pp.
Publication Date: February 14, 2019
* Individual store prices may vary.
Description
Amazon #1 New Release
"An entertaining and educational firsthand account of an older woman's single sexual life."
Kirkus Reviews
"The Book of Hot: A Manifesto lives up to its subtitle as a call to arms--and legs, and sundry other parts of the female anatomy..."
Barbara Hoffman, New York Post
Fabulous Goddesses: Mrs. Hot here, inspiring, empowering and entertaining you to the vibrant vitality, sexuality, and joy you deserve on your own personal Mission: Possible. Sixty is the new forty--or even thirty --as we simply refuse to hang up our running shoes or our sexual attractiveness. To the very, fabulous end
I'm a gorgeous Goddess who transformed from drab to fab, rut to strut, and shot to hot I found myself in my late fifties facing a future of loneliness, infirmity, and pain--single, in a job from hell, and battling emotional issues that left me unhealthy, unattractive, and in despair. The only men on my sofa were Ben and Jerry With time goosing me with "it's now or never," I plunged into my makeover, a journey of emotional, physical, and sexual healing; then, after decades away from it, the world of dating, with its mind-blowing contemporary dynamics. Fearless, edgy, and disruptive, I'm Sex and the City's Samantha 2.0, now fully ripened--and that much more wise, joyous, and juicy. We're not getting older, we're getting bolder; my quarter million Facebook followers agree (www.facebook.com/SmokinMrsHot/).
Life should be lived at full tilt at any age, without boundaries and without apology. To that end, I share my journey and wisdom with you here, much adapted from my blog at http: //www.mrshot.com. Unabashedly feminine yet feminist, I write about health, beauty, allure, sexuality, self-actualization, and the romance and sex life these pursuits make possible--my erotic adventures. Meanwhile, I encourage you to access your own Inner Goddess to create the fabulous life you deserve
Part One: In Hot Pursuit details my transformation and sets you on your path to an exuberant, sexy lifestyle. In Part Two, I share some of my erotic stories--True Confessions. You'll meet my local MENagerie, as well as a few exotic foreign acquisitions: intriguing men of all ages.
Why exist an existence when we can live a Life la Hot?
Three Reasons to Love The Book of Hot:
1. Addresses the transformational aspirations of Boomer women with a unique combination of self-help strategy, inspiration and spicy entertainment.
2. Uniquely disrupts societal expectations for older women, liberating them from ageism, sexism and other artificial constraints to actualize their most fulfilled feminine feminist selves, sexually and otherwise.
3. Inspiration, empowerment and entertainment uniquely delivered in a witty, polished literary style, powering transformation with punch and panache.