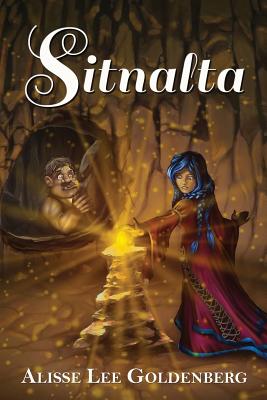 Sitnalta
Paperback

* Individual store prices may vary.
Description
Everyone in the land loves Princess Sitnalta of Colonodona. Everyone except her father, the monstrous King Supmylo, whose thirst for revenge and hideous cravings, have nearly destroyed the once peaceful kingdom. He cares only for power-the more the better-and he despises Sitnalta because she wasn't born a boy. He wanted an heir, a prince, to grow his kingdom and fulfill his own father's legacy. But now, his only choice is to join with a neighboring kingdom, and at the tender age of 15, Sitnalta is to be married to another king who is at least as old as her own father.
But Sitnalta has other ideas. Before her father can come for her, she sneaks out of her bedroom window, scales the castle walls, and enters the magical forest that surrounds her kingdom. There she meets Najort, a kind-hearted troll, who was tasked by a wizard decades earlier to protect a valuable secret-with his life, if necessary.
But King Supmylo has vowed that nothing will stop him from returning his daughter to Colonodona, and forcing her to go through with the royal wedding. With the help of friends from both kingdoms, Sitnalta and Najort flee ahead of the rabid king. For if they are captured, Supmylo will become so invincible, no one could stand against him
Book 1: "Sitnalta" ASIN: B00GBNZZZ0, ISBN-13: 978-0991213108
Book 2: "The Kingdom Thief" ASIN: B013PSBUXO, ISBN-13: 978-0990870968
Book 3: "The City of Arches" ASIN: B01N9P6H7L, ISBN-13: 978-1945502262.
Pandamoon Publishing, 9780991213108, 298pp.
Publication Date: December 4, 2013
About the Author
ALISSE LEE GOLDENBERG holds a bachelor of education and a fine arts degree; she has studied fantasy and folklore since she was a child. Alisse lives in Toronto, Canada, with her husband, Brian; their triplets, Joseph, Phillip, and Hailey; and their rambunctious goldendoodle, Sebastian. This is her debut novel. Please feel free to visit her at www.alisseleegoldenberg.com