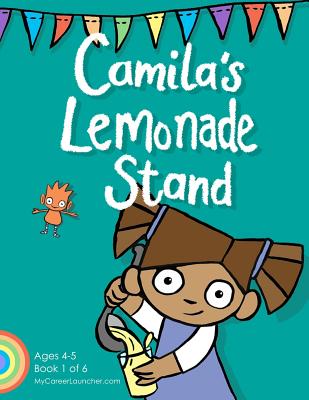 Camila's Lemonade Stand (Paperback)
Mycareerlauncher, 9780991254910, 42pp.
Publication Date: December 3, 2013
* Individual store prices may vary.
Description
Camila's Lemonade Stand is a book about entrepreneurship, tailored to Pre-K imaginations
Camila is a plucky kid in the Career Launcher Crew, seven fearless children in search of their futures. When she finds herself with no money for the Ferris wheel, friendly sprite Itsy shows up to give her some good advice: she can start a business What happens when Jaden opens a competing cookie stall? And will the dark clouds on the horizon rain out their fun? With endearing characters kids love, and charming illustrations by Lizzy Duncan (Tollins series, HarperCollins), Camila's Lemonade Stand is a wonderful first introduction to the key principles of entrepreneurship. Grounded in the key principles underpinning every successful venture, the MyCareerLauncher goal is to plant the seeds of the next generation of entrepreneurs.
"Your product is terrific. There is huge potential in teaching children to think like entrepreneurs. And how needed it is these days MyCareerLauncher will help form linkages among parents and educators - and engage grandparents as well. I love the approach "
-Parents.com Blogger Dr. Richard Rende, Brown University
Camila's Lemonade Stand is the first in a unique series of six early learning career guides for Pre-K kids. The series is the first in a comprehensive preschool to college career discovery program. Featuring delightful characters and compelling narratives, and backed by rigorous research, MyCareerLauncher engages children in a quest for their best-fit careers with the power of their imaginations.
Don't miss the forthcoming Companion Guide for parents, grandparents and teachers More information at MyCareerLauncher.com.
Discover a path where your passions can shine with MyCareerLauncher