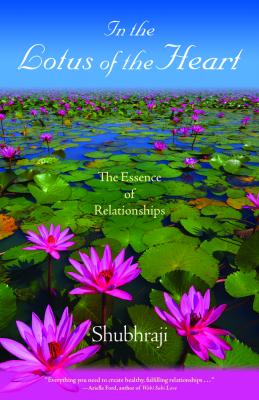 In the Lotus of the Heart
The Essence of Relationships
Paperback

* Individual store prices may vary.
Description
In the Lotus of the Heart: The Essence of Relationships
Do you yearn to become a more loving partner? Are you in a relationship you would like to transform? Are you searching for better way to handle conflict? Vedanta teacher Shubhraji was moved to write In the Lotus of the Heart: The Essence of Relationships because, in her words, "people everywhere talk to me about the same relationship issues. Many feel lonely; often they're cut off from loved ones because of seemingly unresolvable conflicts or communication problems, or they suffer in stale, loveless, or even abusive relationships."

Accessible and practical, In the Lotus of the Heart illuminates how to connect more deeply with our beloveds, parents, children, friends, and co-workers and reveals how relationships help neutralize the effects of past conditioning. Using familiar examples, Shubhraji illuminates how our outer conflicts reflect our inner struggles and why resolving these struggles can propel us toward harmonious relations with others. In the Lotus of the Heart reminds us that we start with ourselves, for that is where we find our wholeness, perfection, and innate capacity to love.

Praise For In the Lotus of the Heart: The Essence of Relationships…
"Everything you need to create healthy, fulfilling relationships, using ancient wisdom, beautiful stories, tools, and exercises. This book is a must read . . ."
—Arielle Ford, author of Wabi Sabi Love and The Soulmate Secret

"If you want to live a more loving life, read this book! In the Lotus of the Heart, a refreshing and innovative book, reminds us that we are the ultimate expression of love."
—Marci Shimoff, author of the #1 New York Times bestseller Happy for No Reason


"In the Lotus of the Heart is a profound and inspiring lesson in healing our love, lives, and ourselves by using ancient spiritual wisdom. I recommend it wholeheartedly."
—Brenda Wade, PhD
Author of Love Lessons and 99 Things You Wish You Knew Before Falling in Love

"In the Lotus of the Heart is a wonderful book pointing readers to the essential ingredient in having successful and enriching relationships as well as getting in touch with what is best and highest in them. Using beautiful quotes from scriptures and sages, along with excellent practical advice, it shows the way to the path of lasting love."
—Drs. Evelyn and Paul Moschetta
Marriage counselors and authors of The Marriage Spirit and
Are You Roommates or Soul Mates?

"Creating and maintaining loving relationships requires energy and dedication. In this book, Shubhraji dives deep into Vedanta and comes up with refreshing insights that help us effectively invest that energy and focus our dedication. Using simple stories, folk wisdom, and teachings of contemporary wise men and women, Shubhraji skillfully illustrates how awareness of our true inner selves enables us to succeed in our pursuit of joyful, positive, and sustainable relationships. I would highly recommend this poignant book to anyone seeking the freedom to fully enjoy the depth and beauty of their relationships."
—Vatsala Sperling, MS, PhD, PDHom, CCH, RSHom (NA)
Coauthor of For Seven Lifetimes: An East-West Journey to a Spiritually Fulfilling and Sustainable Marriage

Namah, 9780991257867, 185pp.
Publication Date: January 31, 2015
or
Not Currently Available for Direct Purchase