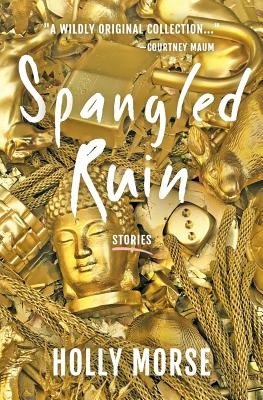 Spangled Ruin (Paperback)
Tall Island Press, 9780991327294, 162pp.
Publication Date: March 8, 2017
* Individual store prices may vary.
Description
A small town postal worker knows more than the young woman at her counter, including what they share; a Chinese American boy draws on fantasy ponies to outmaneuver menace; and an outsider artist teaches an urban lover the benefits of a fish's perspective. In these stories - sexy, funny, tragic, cosmic -- Holly Morse unfurls the rainbow range of her narrative and stylistic talents. While the stories span both familiar themes (intergenerational conflict, sexual politics) and unfamiliar themes (Swedish witches, guinea pigs), they always deliver fresh data on the interplay between interiority and human relatedness. Many of them pass Peter Taylor's test for the perfect short story: that it include all the elements of a novel in miniature. In the end, they achieve what the best of the genre achieves in the work of its masters from Flannery O'Connor and Alice Munro to TC Boyle and Rebecca Lee: that the whole, real world is implied within a tight, imaginary garden.