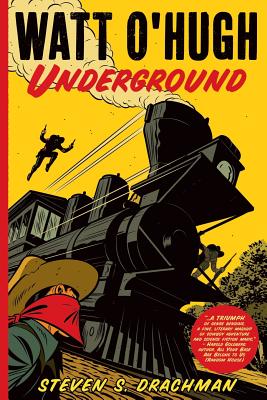 Watt O'Hugh Underground (Paperback)
Being the Second Part of the Strange and Astounding Memoirs of Watt O'Hugh the Third
Chickadee Prince Books, 9780991327416, 256pp.
Publication Date: May 20, 2014
* Individual store prices may vary.
Description
THE ADVENTURE CONTINUES PUBLICATION DATE: MAY 20. 4 out of 5 stars, "an exciting and tumultuous tale ... call s] to mind Mark Twain's dryly hilarious sketches of the characters he encountered on the American frontier." -- Foreword Reviews Watt O'Hugh the Third has been many things in his life: Time Roamer, Civil War soldier, orphan of the New York slums, Wild West dime novel hero, and the only true love of the beautiful socialite Lucy Billings. But by August of 1878, he is naught but a wanted fugitive, a drunken wreck and an angry army of one. Spending his days in the shade of an abandoned Death Valley shack, poring over maps, imagining a way to destroy his enemies and march out of their city carrying their heads on flaming spears. Plotting a solo military conquest that he knows cannot and will not ever succeed. Until the day that Hester Smith beats down his such-as-it-is door and offers him his dreams of revenge against the monstrous Sidonian regime that has destroyed his life -- and one last chance at redemption. But first there is the matter of a rather urgent train robbery with which she needs his help, and, more to the point, the help of his ghosts ...