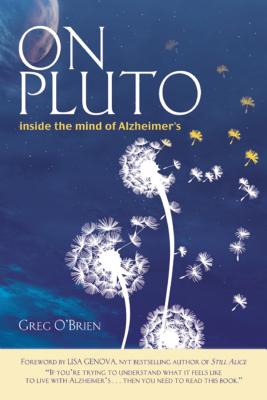 On Pluto
Inside the Mind of Alzheimer's
Paperback

* Individual store prices may vary.
Other Editions of This Title:
Paperback (2/27/2018)
Description
This is a book about living with Alzheimer's, not dying with it. It is a book about hope, faith, and humor—a prescription far more powerful than the conventional medication available today to fight this disease.

Alzheimer's is the sixth leading cause of death in the US—and the only one of these diseases on the rise.
More than 5 million Americans have been diagnosed with Alzheimer's or a related dementia; about 35 million people worldwide.

Greg O'Brien, an award-winning investigative reporter, has been diagnosed with early-onset Alzheimer's and is one of those faceless numbers. Acting on long-term memory and skill coupled with well-developed journalistic grit, O'Brien decided to tackle the disease and his imminent decline by writing frankly about the journey. O'Brien is a master storyteller. His story is naked, wrenching, and soul searching for a generation and their loved ones about to cross the threshold of this death in slow motion. On Pluto: Inside the Mind of Alzheimer's is a trail-blazing roadmap for a generation—both a "how to" for fighting a disease, and a "how not" to give up!
Praise For On Pluto: Inside the Mind of Alzheimer's…
"The book is excellent…It's sad, it's beautifully written, it's humorous at times…really a good read for anyone heading down this path, or knowing someone who is going down this path." —Anthony Everett, Ch.5 Chronicle.

"Told with extraordinary vulnerability, grace, humor, and profound insight, On Pluto is an intimate look inside the mind of Greg O'Brien, a journalist diagnosed with young onset Alzheimer's. But the real gem of On Pluto lies in its unflinching look inside Greg's heart. If you're trying to understand what it feels like to live with Alzheimer's, and you are because you're reading these words, then you need to read this book." --Lisa Genova, New York Times bestselling author of Still Alice.

In On Pluto, Greg O'Brien has given us a priceless gift: an honest, funny, heartbreaking, and powerfully poignant look into the world of an Alzheimer's sufferer, written by a man who suffers from it himself. Greg O'Brien is a brilliant observer and superb writer, and he is at the top of his game in this book. It's as if he has willingly dropped himself into a mental tornado so that he can tell us what it looks like from inside. You have never read a book quite like it, and probably never will again." -- William Martin, New York Times Bestselling author of Cape Cod, Back Bay, and The Lincoln Letter

"Greg O'Brien writes with the consummate knowledge of a guide and the courage of a pioneer. In this important and transcendent book he serves both roles as he folds back the veils of fear and traverses the treacherous territory of early-onset Alzheimer's. ON Pluto: Inside the Mind of Alzheimer's glows with honesty, intelligence and compassion and, given the subject, is a surprisingly spirit-renewing book."--Anne D. LeClaire, author of bestselling Listening Below The Noise, Leaving Eden, and The Lavender Hour

"Never before have we been offered such a clear understanding of how Alzheimer's disease effects day-to-day perceptions. Greg O'Brien's first-hand account of his own disease process will force us all to rethink the way we deliver care, and is a must addition to the libraries of all professional and family caregivers."—Suzanne Faith, RN psych, Clinical Director, Hope Dementia & Alzheimer's Services

"On Pluto: Inside the Mind of Alzheimer's is destined to become a vital resource that Alzheimer's organizations and senior centers across the country will turn to in assisting those with Alzheimer's and other forms of dementia. Greg O'Brien's personal battle against Alzheimer's is an everyman's fight; he is the quintessence of the lead character in the epic New York Times bestselling Alzheimer's novel, Still Alice. O'Brien, through faith, humor and journalistic grit, is able, like the master artist, to paint a compelling, naked work picture of this progressive, chronic disease for which there is no cure, and a sickness that will swamp a generation. This is not a misery memoir; O'Brien bluntly offers the Baby Boomers and generations to come a riveting guide in how to live with Alzheimer's, not accede to it."—Alisa M. Galazzi, co-founder of Dementia Care Academy, former Executive Director, Alzheimer's Services of Cape & Islands
Codfish Press, 9780991340101, 240pp.
Publication Date: August 26, 2014
About the Author
Greg O'Brien has more than 35 years of newspaper and magazine experience as a writer, editor, investigative reporter, and publisher. Over the years, he has contributed to, among other publications, the Associated Press, UPI, USA Today, Arizona Republic, Boston Herald American, Boston Metro, New York Metro, Philadelphia Metro, Providence Journal, Cape Cod Times, Boston Irish Reporter, and Boston Magazine, where he was senior writer. He is former editor and publisher of the Cape Codder and Register newspapers, former editor of Cape Cod Life, and was a founding managing director of Community Newspaper Company in Boston. He is the editor/author of several books, has published 17 books by other writers through his publishing affiliate Codfish Press, has written/produced documentaries, and has been a scriptwriter. O'Brien is the editor and president of Stony Brook Group located on Cape Cod in Brewster, MA, through which he runs local, regional, and national political and corporate communication strategy campaigns. He and his wife Mary Catherine have three children: Brendan, Colleen, and Conor.

Lisa Genova, PhD, is the New York Times best-selling author of Still Alice, Left Neglected, and Still Anthony.
or
Not Currently Available for Direct Purchase