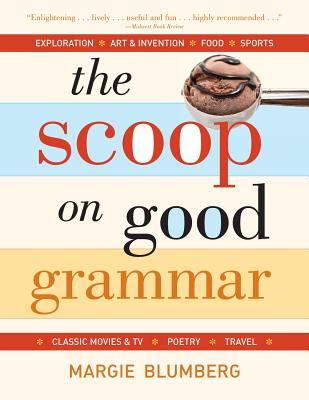 The Scoop on Good Grammar
Paperback

* Individual store prices may vary.
Description
Learning should be a sweet experience. That's why you'll find a photo of a scoop of ice cream on each quiz page. You'll also notice lots of sample words and sentences, beautiful photographs and illustrations, practice questions, and fun facts throughout. This grammar book is all about culture. As you read each chapter-exploration, art and invention, food, sports, classic movies & TV, poetry, and travel-you'll find that learning is a pleasure.For example, in Chapter 2 (Art & Invention), Renoir's "Luncheon of the Boating Party" will guide you through the definition of a noun. And in Chapter 3 (Food), cupcakes will help you discover the many ways in which words are used as adjectives.In no time at all, choosing the correct pronoun (it's between you and "me"-not, between you and "I") and the appropriate modifying word (it's "really" sweet-not, "real" sweet) will become second nature to you.Your invitations will be as welcoming as that statue that lifts her torch in the harbor: - Please join the Ghirardellis (not, the Ghirardelli's) for a party Greeting people will become an occasion to shine. When someone asks how you are, you'll say, "I'm fine, and you?" -not, "I'm fine, and yourself?"When you write, you'll point your readers in the right direction with proper punctuation marks.And at the end of the day, you'll lie (not, lay) down, relax, and take pleasure in the knowledge that your prized possession-your artful way with words-has been, in its (not, it's) own way, as beautifying to the landscape as a masterpiece by Renoir.It is my hope that by the time you finish this book, you'll be able to express yourself correctly with confidence and ease.Are you ready to get the scoop? Great Dig in.
MB Publishing, 9780991364657, 246pp.
Publication Date: August 17, 2015