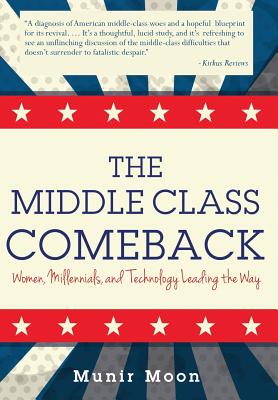 The Middle Class Comeback (Hardcover)
Women, Millennials, and Technology Leading the Way
Munir Moon LLC, 9780991372188, 190pp.
Publication Date: August 5, 2016
Other Editions of This Title:
Paperback (8/2/2016)
* Individual store prices may vary.
Description
In a time when the one-percenters seem to have it all, author Munir Moon builds a case for the average Joe in his eye-opening new book, The Middle Class Comeback. So take heart and take control of your fears with Moon's informative--and ultimately inspiring--look at the middle class.

Moon, a former financial-industry executive and current business owner, uses his years of expertise to paint a portrait of the middle class that is not nearly as grim as the media would have you believe.

While it is true that the middle class has been consistently squeezed while facing higher costs in health care, housing, education, and taxes, there are many positive developments that spell hope for those making a moderate income.

With clarity and insight, Moon details the ways in which the middle class is setting itself up for a comeback. This includes the increasingly strong presence of women in society; the rise of technology that will both create high-paying jobs and inspire different ways of approaching basic societal pillars; and the imminent takeover of the millennials, a generation that is poised to tackle our nation's problems in a whole new way.