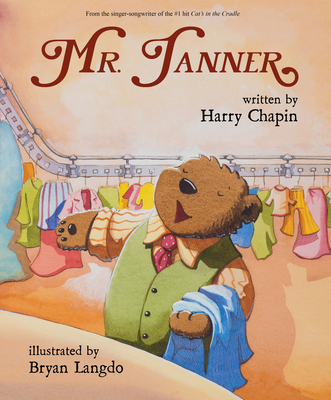 Mr. Tanner (Hardcover)
Ripple Grove Press, 9780991386680, 40pp.
Publication Date: May 9, 2017
* Individual store prices may vary.
Description
Mr. Tanner runs a dry cleaning shop in Dayton, Ohio, where he spends his days greeting his customers with his beautiful baritone voice. His friends and neighbors encourage him to sing professionally instead of cleaning clothes. He eventually takes a chance and travels to New York City to be heard by a concert agent and critics, only to find they weren't hearing what he was feeling. The song Mr. Tanner was released in 1973 off Harry Chapin's Short Stories album. The song was inspired by a mediocre review about a baritone singer in The New York Times. A portion of the proceeds from the sale of this book will go to help support WhyHunger, a charity championed by Harry Chapin himself.
About the Author
Harry Chapin (1942–1981) was an American singer-songwriter best known for his #1 hit Cat's in the Cradle. He was a true troubadour of storytelling through his songs. He also was a humanitarian who fought to end world hunger and is one of the founders of WhyHunger. Bryan Langdo is the illustrator of over thirty books for children, including Salad Pie by Wendy BooydeGraaff. He is also a writer and editor. When he's not in his art studio with some music playing, he likes to be outdoors with his wife and two children.
Praise For Mr. Tanner…
"In essence, both the song and the book tell the story about finding one's voice (no pun intended), to be yourself, and that you should always thoughtfully be willing to try things and not be scared to fail, because after all that's how we learn."  —Jonathan Chapin, step-son of author/songwriter Harry Chapin
"Langdo (There's a Cat in Our Class!) portrays Mr. Tanner as a well-dressed brown bear, and his sensitive watercolors draw out the joy Mr. Tanner gets from singing, his shock over the bad review, and its effect on him: after returning home, "he smiled and just said nothing, and he never sang again." Although closing images of Mr. Tanner singing to himself at his shop temper this outcome somewhat, it's a somber reminder of the way criticism can get inside an artist's head."  —Publishers Weekly
"Aside from a few changes, the rhyming text of the book is the same as the original song. A facsimile of the typed lyrics with Chapin's handwritten corrections is included. Like 'Cat's in the Cradle,' the late singer/songwriter's best-known work, this story about good intentions going awry has a melancholy air. There's inspiration in the refrain: 'He didn't know how well he sang. It just made him whole.'"  —Kirkus Reviews