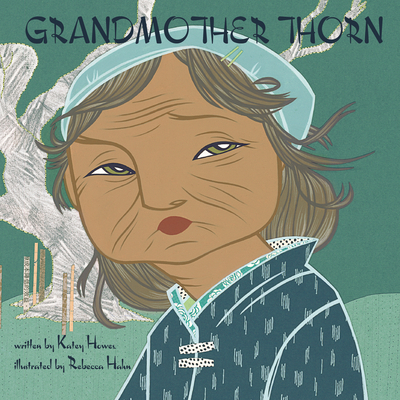 Grandmother Thorn
Hardcover

* Individual store prices may vary.
Description
Nominee:
2017 Cybils Award, Best Fiction Picture Book, Children's and Young Adult

Grandmother Thorn treasures her garden, where not a leaf, twig or pebble is allowed out of place. But when a persistent plant sprouts without her permission, Grandmother begins to unravel. "Her hair became as tangled as the vines on her fence. Her garden fell into disrepair. One morning, she did not rake the path." A dear friend, the passage of seasons, and a gift only nature can offer help Grandmother Thorn discover that some things are beyond our control, and that sweetness can blossom in unexpected places.
Praise For Grandmother Thorn…
"Verdict: This well-crafted take offers a gentle lesson of stewardship and living in peace with nature. Teachers and parents will appreciate its story, and readers of all ages will delight in its appealing design." —Marilyn Taniguchi, School Library Journal

"What a gem this book is. Grandmother Thorn powerfully conveys the message that beauty can be found where we least expect it-- or want it-- when we learn to let go of our stubborn ways." —happilyeverelephants.com

"Portland artist Rebecca Hahn painted, sewed and crafted the intricate and lovely artwork for this picture book from a Portland publisher. Katey Howes wrote the story of friendship and acceptance set in a rural Japanese village where the title character prides herself on orderliness and keeping the upper hand." —Amy Wang, Oregonian
Chicago Review Press-Ripple Grove Press, 9780991386697, 44pp.
Publication Date: August 29, 2017
About the Author
Katey Howes is a former physical therapist who now writes full time from her home office. She loves connecting kids with the natural world through exploration, art, and science. She lives in Chesterfield, New Jersey. Rebecca Hahn is an artist who enjoys working with a diverse range of media including animation. She previously worked for the Walt Disney Company where she drew the Winnie the Pooh characters for the Consumer Products Division. She has since left the corporate world to work from her studio where she continues to create for business and pleasure, tending to her long time loves of story, concept, and craft. She lives in Portland, Oregon.
or
Not Currently Available for Direct Purchase