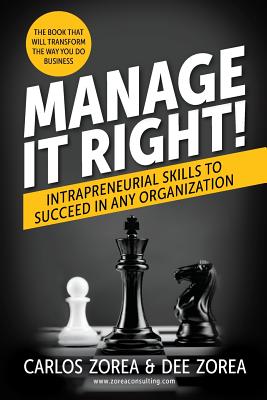 Manage It Right!
Intrapreneurial Skills to Succeed in Any Organization
Paperback

* Individual store prices may vary.
Description
Perfect for: aspiring managers, managers, and business owners managing teams of 10+ employeesPerfect gift from: business advisory professionals (attorneys, bankers, financial advisers, insurance consultants, etc), hiring managers, entrepreneurs, intrapreneurs, executives, business supply vendors, etc. ---" Manage It Right "is a unique, easy-to-read guide to enhancing business performance through a rigorous process of analysis, system improvements, team building, monitoring and control. Written in narrative style, the book chronicles the journey of a midcareer manager, Dennis, facing the monumental challenge of turning around a failing division of a major company. Through extensive counseling with his seasoned mentor and consultant, Chuck, we learn over 27 business management lessons and the steps necessary to evaluate and transform organizational performance in a refreshingly new way. Manage business diagnostics Analyze change design Nurture team building Assess and improve processes Generate relevant action items Enable effective evaluations Integrate alignment techniques Target significant growth Renew organizational pride Improve project management and scheduling Grow decision-making skills Harvest the power of road maps Transform weaknesses to strengths ""Consultants Carlos and Dee Zorea ingeniuously unveil a wealth of wisdom... masterful job... a readable guide that is as entertaining as it is useful""- "Foreword Reviews" ""amazingly useful"" - Robert Buckler, President (retired), DTE Energy ""beyond my greatest expectations"" - Paul Rosenbaum, former CEO and Chairman of the Board, Rentrak Corporation ""legendary"" - Tom Henderson, "Crain's Detroit Business" ""powerful insights"" - Jeff Padden, CEO, Public Policy Associates, Inc. ""secrets to be harvested"" - George H. Kuper, Chairman, Council of Great Lakes Industries ""practical management lessons"" - Ed Waltz, Distinguished Member of the Technical Staff, Virginia Tech ""different from anything I have encountered before"" - Kenneth Augustyn, Director (former), ERIM International, Inc. ""propel any business to success"" - Ralph H. Mitchel, Distinguished Member of the Technical Staff, General Dynamics ""take this book to heart"" - Hunt Harris, Entrepreneur and philanthropist, CEO (retired), Star Forms.
Manage It Right! Press, 9780991392704, 319pp.
Publication Date: March 20, 2014
or
Not Currently Available for Direct Purchase