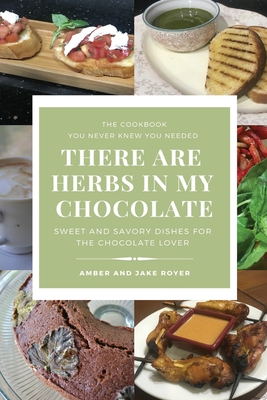 There Are Herbs In My Chocolate
Paperback

* Individual store prices may vary.
Other Editions of This Title:
Paperback (3/31/2014)
Description
Explore the global kitchen with over 60 delectable herb-infused recipes that feature chocolate - including unexpected savory chocolate appetizers and entrees, decadent chocolate beverages and desserts, and fun chocolaty breads, all paired with a wide variety of culinary herbs.
Chocolate Gingerbread.
Chicken Satay with White Chocolate Peanut Sauce.
Dark Chocolate Mushroom Arancini.
Maybe you didn't realize these things were missing from your life, but try them, and you may find yourself with some new go-to recipes to impress at dinner parties, or treat yourself or your family at home. Plus, sampling them might change the way you think about chocolate. Chocolate can be earthy, bitter, nutty, subtle or sweet, and it's not just for dessert. There are Herbs in My Chocolate uses everything from cocoa butter and white chocolate to chocolate infused balsamic vinegar to explore the range of tastes that can come from the seeds of a single tree.
Cooking with herbs connects you to history, and harkens back to a time when kitchen gardens were a staple for every home. Now, more and more culinary herbs are available at supermarkets so even if you don't have time to maintain a garden, you can still find ways to include them in your diet.
Chocolate is already decadent. Adding herbs can make the experience even more special.
It's not just a hot chocolate. It's a thick drinking chocolate, infused with the delicate aroma of lavender and roses.
It's not just a chocolate cupcake. It's a cinnamon chocolate cupcake with boozy lemongrass frosting.
It's not just pumpkin ravioli. It's pumpkin ravioli with the earthiness of cocoa powder in the brown butter sauce.
In this book, you will learn how to make herbal syrups, sauces, pastes and candied herbs, and to infuse herbs into ice cream, confections, breads and pastries. Most importantly, you will learn how to choose herbs to pair with different types of chocolate to create balanced flavor profiles. The herbs involved may be fresh from the garden, dried, or infused into herbal liqueurs. Techniques for working with chocolate include learning how to temper, which is important for making candies.
These meticulously tested recipes, featuring detailed full-color photographs, will take you on global culinary adventures. This cookbook updates and fuses traditional ingredient combinations.
The author of the Chocoverse science fiction series and the Bean to Bar Mysteries (starring a craft chocolate maker) brings you an out-of-this world delicious cookbook
Golden Tip Press, 9780991408337, 160pp.
Publication Date: November 7, 2020