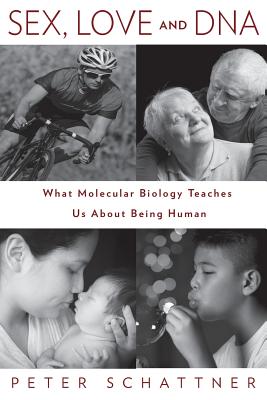 Sex, Love and DNA (Paperback)
What Molecular Biology Teaches Us about Being Human
Olingo Press, 9780991422517, 382pp.
Publication Date: September 25, 2014
Other Editions of This Title:
Hardcover (9/25/2014)
* Individual store prices may vary.
Description
Can 21st-century molecular biology answer age-old questions about the human experience? Can studying proteins and DNA help us understand how we make our choices in sex and love? How we communicate? Where our emotions come from? Or why we age and die?......... In this fascinating journey into the biology of cells, scientist and educator Peter Schattner explains how proteins and DNA affect our lives. "Sex Love and DNA" explores the amazing world of molecular biology through stories of people who don't feel pain because of rare genetic variants, children whose DNA enables them to perform unusual feats of strength, and people who can't speak or read simply because they lack certain proteins. Written in language that anyone can understand, "Sex Love and DNA" will show you how science is revolutionizing our understanding of what it means to be human......... "Reading this book raises a feeling similar to watching one of those fascinating National Geographic specials--the one where you are so entertained, you do not realize you are learning." -- New York Journal of Books......... "Marvelous entrance for those ready to plunge into popular science." -- Kirkus Reviews......... "Immensely absorbing and eye opening"-- San Francisco Book Review......... "Will astound and entertain you far more than any science fiction" - Bookviews......... Finalist, "Best Independently Published Book of 2014" -- Shelf Unbound Reviews.
About the Author
Peter Schattner is a scientist, educator and writer with over 30 years of research experience in molecular biology, biomedical instrumentation and physics. He received his Ph.D. in physics from M.I.T under Nobel Laureate Steven Weinberg and has held research and teaching positions at the University of California, California State University, Stanford Research Institute and Diasonics, Inc., where he contributed to the early development of medical ultrasound and MRI scanners. He is the author of numerous scientific articles and reviews as well as the textbook Genomes, Browsers and Databases. He was a Woodrow Wilson Fellow and a winner of the American Institute of Ultrasound in Medicine's Award for Technical Innovation. When not doing science, he enjoys hiking, music and wildlife photography. Sex, Love and DNA: What Molecular Biology Teaches Us About Being Human is his first book for nonscientists.