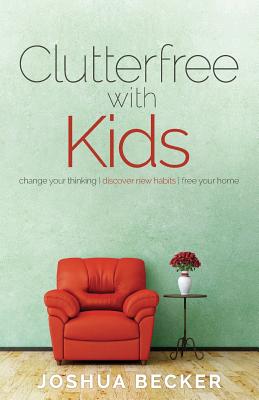 Clutterfree with Kids
Change your thinking. Discover new habits. Free your home
Paperback

* Individual store prices may vary.
Description
Children add joy, purpose, and meaning to our lives. They provide optimism, hope, and love. They bring smiles, laughter, and energy into our homes. They also add clutter. As parents, balancing life and managing clutter may appear impossible-or at the very least, never-ending. But what if there was a better way to live? Clutterfree with Kids offers a new perspective and fresh approach to overcoming clutter. With helpful insights, the book serves as a valuable resource for parents. Through practical application and inspirational stories, Clutterfree with Kids invites us to change our thinking, discover new habits, and free our homes. It invites us to reevaluate our lives. And it just may inspire you to live the life you've been searching for all along. Praise for Clutterfree with Kids: - "Clutterfree with Kids is a wonderful guide that any parent will find both practical and inspirational. If reducing clutter, creating more time and raising more aware children are your goals, this book is not to be missed." -Peter Walsh, Author of It's All Too Much - "Highly recommended for all parents." -Leo Babauta, Zen Habits - "This book is wrecking me All I want to do is de-clutter everything." -Eileen Donaruma, Mother - "Clutterfree with Kids is a splendid resource that teaches a better way to live and shows us that true joy comes from owning less and spending more time pursuing things that matter most." - Kimberley Blaine, Executive Producer, TheGoToMom.TV - "Joshua Becker's Clutterfree with Kids is filled with practical strategies and deep wisdom. It is a must read for professional organizers and parents He brings an important message to the world. His easy to read style, clear ideas, and inspiring personal journey, provide a great catalyst for reconsidering our lives." -Linda Samuels, CPO-CD - "Clutterfree With Kids is a great motivating read for any family. Simple steps to set your family free from clutter and leave a lasting legacy for your children." -Jeff Pope, Father.
Becoming Minimalist, 9780991438600, 198pp.
Publication Date: January 18, 2014
About the Author
Joshua Becker is the founder and editor of Becoming Minimalist, a website that inspires others to find more life by owning less. His rational approach to minimalist living has made him one of today's most-influential simple living advocates. He is also the best-selling author of Simplify: 7 Guiding Principles to Help Anyone Declutter Their Home and Life. He lives with his wife and two children in Peoria, AZ.