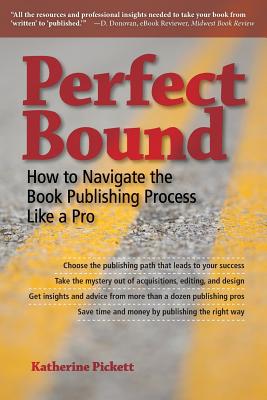 Perfect Bound (Paperback)
How to Navigate the Book Publishing Process Like a Pro
Hop on Publishing LLC, 9780991499113, 240pp.
Publication Date: September 1, 2014
* Individual store prices may vary.
Description
Learn What to Expect on the Road to Publication "This authoritative, step-by-step, behind-the-scenes tour of the book publishing process is essential reading for new authors. . . . Perfect Bound is a treasure trove of practical advice for aspiring authors and others who want to understand what it takes to get a book published." --Warren H. Phillips, former publisher of The Wall Street Journal, co-publisher of Bridge Works book publishing company, and author of Newspaperman "The publishing industry can be difficult to navigate, even for the most seasoned professionals. For self-publishers or those new to the process, having an experienced guide is critical. Katherine Pickett's Perfect Bound is an indispensable resource for anyone who dreams of making it on his or her own." --Adam Motin, managing editor, Triumph Books With a balanced treatment of fiction and nonfiction books as well as traditional and indie publishing, Katherine Pickett's collaborative and down-to-earth approach to the publishing process makes Perfect Bound the ideal reference for new authors. - Learn from the experts: Get inside tips, advice, and real-life stories from the author and 11 Roadside Assistants--publishing professionals and other successful authors ready to help you succeed - Avoid the potholes: Identify and overcome some of the biggest mistakes new authors make, from manuscript to book - Prepare for success: Take steps today to create a high-quality and highly marketable book.