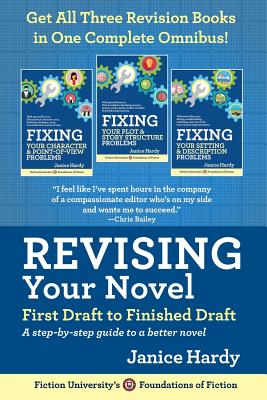 Revising Your Novel
First Draft to Finished Draft: A step-by-step guide to revising your novel
Paperback

* Individual store prices may vary.
Description
Get all three Fixing Your Revision Problems books in one omnibus
This book contains Fixing Your Character & Point-of-View Problems, Fixing Your Plot & Story Structure Problems, and Fixing Your Setting & Description Problems--PLUS a BONUS workshop: How to Salvage Half-Finished Manuscripts.
A strong story has many parts, and when one breaks down, the whole book can fail. Make sure your story is the best it can be to keep your readers hooked. Janice Hardy takes you step-by-step through the novel revision process, from character issues, to plot problems, to description issues. She'll show you how to analyze your draft, spot any problems or weak areas, and fix problems hurting your manuscript. With clear and easy-to-understand examples,
Revising Your Novel: First Draft to Finished Draft
offers eleven self-guided workshops that target the common issues that make readers stop reading. It will help you:
Flesh out weak characters and build strong character arcs
Find the right amount of backstory to enhance, not bog down, your story
Create unpredictable plots that keep readers guessing
Develop compelling hooks to build tension in every scene
Determine the right way to include information without infodumping
Fix awkward stage direction and unclear character actions
Revising Your Novel: First Draft to Finished Draft
starts every workshop with an analysis and offers multiple revision options in each area. You choose the options that best fit your writing process. Learn how to:
Develop a strong and effective revision plan
Analyze your manuscript to find its strengths and weaknesses
Spot common red flag words for problem areas (such as told prose)
Determine the best way to revise a scene, plot, character, or novel
Fix problems holding your novel back
Revising Your Novel: First Draft to Finished Draft
is an easy-to-follow guide to revising your manuscript and crafting a strong finished draft that will keep readers hooked.
Janice Hardy, 9780991536450, 380pp.
Publication Date: August 29, 2016
About the Author
Janice Hardy is the award-winning author of the teen fantasy trilogy The Healing Wars, including The Shifter, Blue Fire, and Darkfall from Balzer+Bray/Harper Collins. The Shifter, was chosen for the 2014 list of "Ten Books All Young Georgians Should Read" from the Georgia Center for the Book. It was also shortlisted for the Waterstones Children's Book Prize (2011), and The Truman Award (2011). She's the founder of Fiction University, a site dedicated to helping writers improve their craft. Her popular Foundations of Fiction series includes Planning Your Novel: Ideas and Structure, a self-guided workshop for planning or revising a novel, the companion Planning Your Novel Workbook, Revising Your Novel: First Draft to Finished Draft, and the upcoming Understanding Show, Don't Tell (And Really Getting It). She lives in Central Florida with her husband, one yard zombie, two cats, and a very nervous freshwater eel. For more information, please visit her at her writing site, Fiction-University.com, or www.JaniceHardy.com.