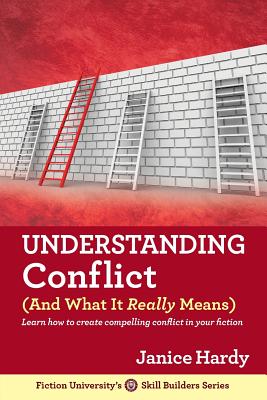 Understanding Conflict
(and What It Really Means)
Paperback

* Individual store prices may vary.
Description
Do you struggle with creating conflict in your novel? You don't have to.
Janice Hardy, award-winning author and founder of the popular writing site, Fiction University, takes you deep inside one of the most important aspects of storytelling--conflict. She'll help you understand what conflict really is, discuss the various aspects of conflict, and reveal why common advice on creating conflict doesn't always work. With in-depth analysis and easy-to-understand examples,
Understanding Conflict (And What It
Really
Means)
looks at how to develop and create conflict in your novel. It also explores the things that affect conflict (such as tension), and the misconceptions that confuse and frustrate so many writers. This book will help you:
Understand what conflict means and how to use it
Tell the difference between external and internal conflicts
See why conflict isn't a "one size fits all" solution
Determine the type of conflict your story needs
Fix lackluster scenes holding your writing back
Understanding Conflict (And What It
Really
Means)
is more than just advice on what to do and what not to do-it's a down and dirty road map to how conflict works, designed to help you create the right conflict for whatever genre you're writing. By the end of this book, you'll have a solid understanding of what conflict means and the ability to use it to craft strong and compelling fiction.
Janice Hardy, 9780991536481, 144pp.
Publication Date: August 1, 2017
About the Author
Janice Hardy is the award-winning author of The Healing Wars trilogy, including The Shifter, Blue Fire, and Darkfall from Balzer+Bray/Harper Collins. She's also the author of multiple books on writing, including Understanding Show, Don't Tell (And Really Getting It), Understanding Conflict (And What It Really Means), Planning Your Novel: Ideas and Structure, and Revising Your Novel: First Draft to Finished Draft. She lives in Central Florida with her husband, one yard zombie, two cats, and a very nervous freshwater eel. Find out more at Fiction University, where she shares advice to help writers improve their craft and navigate the crazy world of publishing.