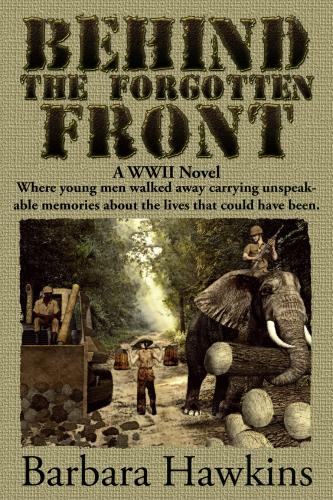 Behind the Forgotten Front
A WWII Novel: A WWII Novel
Paperback

* Individual store prices may vary.
Other Editions of This Title:
Paperback (8/2/2019)
Description
75 years after WWII headlines of Pearl Harbor, Normandy, and Hiroshima hit the press, the China-Burma-India Theater was brought to light in Behind the Forgotten Front.
It's 1942, and Harry Flynn leaves behind the love of his life to journey into East Asia, a world of tigers, elephants, and the Himalayan Mountains. He enlists to fight, expecting to find the thrill of danger and honor of military service. But, instead, Harry is ordered to the Forgotten Front in the Indian subcontinent as an ordinary supply officer. There, General Joseph 'Vinegar Joe' Stilwell is constructing a 'road to nowhere' through Japanese-occupied Burma-and he's willing to complete it at any cost.
In an exotic world with Naga headhunters, opium-smoking Kachin tribesmen, and marauders who scorn both life and death, Harry must entrust his life to others if he is to survive the war. During a time when boys are forced to come of age on the battlefield, and where death and insanity seem to be the only ways out, Harry must find what makes his life worth living.
The lessons learned in WWII apply to all wars where men walk away carrying unspeakable memories about the lives that could have been. Behind the Forgotten Front takes you to the overlooked battles in the China-Burma-India Theater of World War II and shows you that history is about facts driven by the passions and sometimes the mistakes of real people.
Praise For Behind the Forgotten Front: A WWII Novel: A WWII Novel…
Flashlight Commentary
I loved everything about this piece. The exotic setting added a great deal of perspective to the conflict and lent the narrative a refreshing sense of originality.
Teddy Rose Book Reviews
Many WWII stories are highly romanticized! War is not romantic, especially to the soldiers living and dying through it.
Impressions in Ink
Hawkins, towards the end of the story, begins to sort through the effects of war on the men. What kind of civilian men will they be like? Will their families recognize them? These are questions all men and women must wrestle with after they come home from war.
Amazon
My dad served in the army in Burma in WW2. He wasn't a Merrill's Marauder, but his experiences were as grueling and unpleasant as what I read in the book. He was never one to want to talk about the war as some other veterans have who were in more "glorious heroic areas such as bombers "and the like. He didn't enjoy reliving the situations he lived through. I appreciate this telling of what it must have been like for these brave men who didn't get the glory they most highly deserved. Wish I could share this book with him, but he passed away 11 years ago.

Barbara Hawkins, 9780991598410, 336pp.
Publication Date: August 22, 2014
About the Author
Using her father's diary, the author wrote the story he could never complete. She used her experience of more than twenty years as a professional engineer to recreate the construction of the Stilwell Road in 'Behind the Forgotten Front.' Before that, her work as a botanist, collecting plants in the jungles of Central America, gave her an understanding of the hot, humid tropics. Adventure travel is a hobby Barbara Hawkins has had since before it had a name.