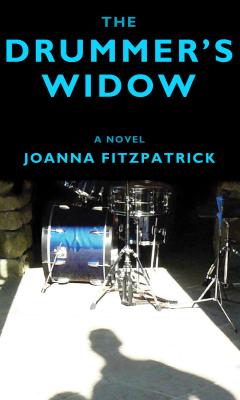 The Drummer's Widow
Paperback

* Individual store prices may vary.
Description
The Drummer's Widow by novelist, Joanna FitzPatrick, chronicles a woman facing life alone after losing her husband of thirty-five years. He was a famous drummer who traveled all over the world; she was his manager; they were inseparable; their partnership gave her life meaning. How could she live without him?



Facing a drawer full of unpaid bills and the increasing cost of maintaining a Tribeca loft, Marisa realizes that the income she derives from editing Random House romance novels is not enough to stay where the walls and shelves are filled with familiar art, family photos, performance posters, and decades of collected memorabilia. She has either to move to a small, cozy apartment—her accountant's suggestion—or rent out rooms. Choosing the latter and dismissing the risk of opening her home to a serial killer, Marisa rents to a tall, gel-spiked, orange-haired Goth named Cassandra and to Martin, an expelled-from-Juilliard, but extremely talented jazz guitarist. Cassandra purports to be a Pratt art student by day and a Bitter End bartender by night. In reality she is a singer running away from California, the fame of a glittering career, and a Svengali-like manager.



Martin hears Cassandra adding words to one of his compositions and singing it one day and realizes she has a great deal more talent than any bartender/art student. Confronted, she confesses to her past life as the pop diva, "CiCi Belle," and agrees to join Martin's jazz band, eschewing her pop persona in favor of a Nina Simone style incarnation. Because of Marisa's previous successful career in the music business, she and Martin ask her to manage them. Despite Marisa's worries that her old promotion skills of plastering lampposts with band notices and knowing just the right impresario to call have been replaced by courting thousands of Facebook friends, tweeting to fan followers, and knowing how to make PR material go viral, she agrees. Like never forgetting how to ride a bicycle, Marisa quickly spins into the world of promoting musicians with the skills and shrewdness that never left her and books "The Martin Starks Trio with special guest CiCi Belle" on a European tour ending up at the world famous Montreux Music Festival. How she, Martin, Cassandra, and all the back-up characters in this compelling and complex novel deal with the harmonies and discords along the way to fame makes The Drummer's Widow a masterful yet unidealized view of those under the lights and those who stand in the wings.



Marisa discovers that she and Cassandra have much in common including their unwillingness to let go of their losses and move forward in their lives. Prior to taking on the challenge that Cassandra and Martin gave her, Marisa's life after the death of her husband consisted of using the Yale Club library to edit bodice-ripping novels and the club gym to keep fit. With the exception of having to deal occasionally with some annoying members of her co-op building, she rebuffed most efforts of others trying to enter her life. She really wants to be a writer and finish the memoir of her Hollywood rock scene experience, entitled Sha La La. Marisa's deceased husband, Jules, stays with her in her mind and voices encouragement to push on. Cassandra's former manager and lover, Ryan, follows her, waiting for the opportunity to reclaim his valuable property. Just as the identity and uniqueness of a musician's album is made up of many cuts with different timbres, shades, colors, and surprises, so too does FitzPatrick's novel reveal the great work that is Marisa's life. As Marisa grapples with her new independence, she discovers a hidden strength and a revival of the possibility "to find the treasure" in living.



An element of art following life underlies the story of The Drummer's Widow. Joanna FitzPatrick was a screenwriter in Hollywood before working in the music industry. She worked with Bette Midler and managed The Manhattan Transfer before moving to New York to become the Managing Director of Gramavision Records, promoting jazz, blues and eclectic classical music. Her first husband was a famous lead guitarist of a '60s rock n' roll band and seven years after her divorce met her present husband of 32 years, a drummer and multiple myeloma cancer-survivor of 10 years. When asked about Joanna's book, he laughs and says, "Yes, it's true, she's written a story about my death." Infused with heart and a pitch-perfect attention to detail, The Drummer¹s Widow will change the way you look at life, love, and everything in between.




Praise For The Drummer's Widow…
It's a read & a half!

The drummer was Jules & Jules was Marisa's husband. Jules was a drummer in a Jazz-fusion band & when he moved on to the Big Jazz Band in the sky, Marisa would still talk to him during evening cocktail hour in their Tribeca (trendy place) loft. The book is "The Drummer's Widow", a novel by Joanna Fitzpatrick & it's a read & a half! from La Drome Press…it goes on sale nationwide next month (May) & it looks fascinating!



Jerry Puffer - KSEN
La Drome Press, 9780991654901, 320pp.
Publication Date: May 1, 2014
or
Not Currently Available for Direct Purchase