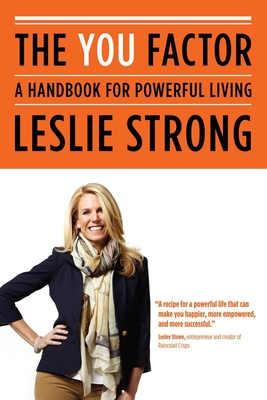 The YOU Factor
A Handbook for Powerful Living
Paperback

* Individual store prices may vary.
Description
Have you ever felt trapped in your life, at home or at work? You're stuck. You're probably complaining, blaming the world around you. Chances are you were saying the same things five years ago. If you don't change, you'll be saying the same thing five years from now. In her new book, Leslie Strong offers this blunt advice: It's not about them; it's about you. You have to take 100% responsibility for your life and how you react to what happens around you. When you do, you'll gain the power to create a life that will make you happier, more successful, and more fulfilled.Her book does for self-empowerment and motivation what You: An Owner's Manual did for our understanding of the physical body,  The YOU Factor marries the tenets of Gretchen Rubin's The Happiness Project with the practical business advice of Steven Covey's The 7 Habits of Highly Effective People. Not since What Color Is Your Parachute has a book offered such a wealth of good, practical advice for a workforce in transition. The YOU Factor breaks down the victim mentality and gives readers some much-needed handholding on the path to personal fulfillment. It appeals to a wide audience: For anyone who is stuck, dealing with a job loss, transition, or a personal or career crisis, Leslie Strong's Power Tools are as relevant for stay-at-home moms as they are for CEOs.
Praise For The YOU Factor: A Handbook for Powerful Living…
"The You Factor provides a highly effective framework to help you re-claim your power. Through practical examples and real life stories, Leslie Strong demonstrates how you can unleash your passion, your talent and eliminate those barriers that prevent you from being your true, best self. For those of us looking to have positive impact in our personal and professional lives, this book is an essential first step." — Willa Black, vice-president, corporate affairs, Cisco Canada
"Take back your power — stop giving it away. This is Leslie Strong's rallying cry in The YOU Factor. Her simple, effective Power Tools take on what's between you and your goals, in all aspects of life. The first step: Seeing barriers of your own making. From there, she helps readers to move steadily towards what they want. Her how-to for gagging the inner voice that says" — Nancy Vonk, author, co-founder of Swim, and former co-chief creative director of Ogilvy & Mather Toronto
Barlow Publishing, 9780991741113, 156pp.
Publication Date: September 25, 2013
About the Author
Leslie Strong is a personal and executive leadership coach who inspires others to identify, reframe, and transform their personal and professional lives. Her 10 Power Tools helps clients and readers to function at a level they never thought possible. Her mantra: Inspire. Transform. Succeed. Her client base: individuals, entrepreneurs, stay-at- home moms, small business enterprises and multinational corporations including Home Depot, Unilever and Deloitte.