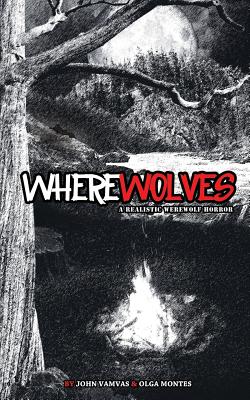 Wherewolves
Paperback

* Individual store prices may vary.
Description
"KEPT ME ON THE EDGE OF MY SEAT. GETS YOUR PULSE POUNDING." -Author and award winning investigative journalist, Victor Malarek Using a fun, explosive style, full of new slang and fresh dialogue, WHEREWOLVES is the story of a group of high school seniors, most of them "military brats", who are headed for an army-type survival weekend. "5 stars. It reminded me a bit of Lord of the Flies versus Silver Bullet but only way cooler." "Chillingly terrifying." The underdogs, Jeffrey and Doris, do not want to go as they fear for their safety among the disdain and cruelty of the popular students. Sergeant Tim O'Sullivan, their teacher, as well as their dysfunctional parents pressure them into going, but it is an unforgivable act by their peers that propels the pair to go. Likewise, Elie, a student resented because of his Arab roots, is even more determined to prove himself this weekend. In the background, a news report cautions of a wanted couple with alleged super-human strength supposedly brought on by a new drug on the streets. In the woods, the students hike, hunt, camp, and soon act in unity as the forest brings them closer together. But does it? O'Sullivan leaves them alone for the night. The students bond, chant, tell campfire tales, and quickly lose their fears and inhibitions. HOO-AH Though sexual tensions are high, it soon turns to violence and everything quickly turns sour. When the kids start disappearing one after the other, the remaining begin to unwittingly "act like the natives" carving spears, ready to face whatever is out there. What has gotten into them? Amid blood-curdling growls and gruesome deaths, the story's underlying layers are revealed. We see how misconceptions, prejudice, greed, fear, and hatred bring out the worst and best in them. What is out there? Can it really be werewolves? "This is one horror novel that will have you thinking long after you've finished reading." Based on the screenplay, WHEREWOLVES, by John Vamvas and Olga Montes "SPARKLING DIALOGUE...THE WRITING IS SENSATIONAL." -Emmy and Peabody Award winning writer, William Mastrosimone.
John Vamvas and Olga Montes, 9780991866618, 308pp.
Publication Date: April 26, 2013
About the Author
Together for over 20 years, John and Olga started as an acting team but soon began to write their own scripts for lack of finding two-person plays they could tour across North America. They wrote and toured four full-length critically acclaimed plays to packed houses across Canada and the United States, including, Bad Boy, which they performed Off-Off-Broadway at New York's Creative Place Theatre in the heart of Times Square. In 2001, they were approached to star in and rewrite the short film, Things Never Said in Playa Perdida. Playa won the audience award at the New York Short Film Festival in 2002 and tied first place at the Festivalisimo festival in Montreal. WHEREWOLVES is their first novel.