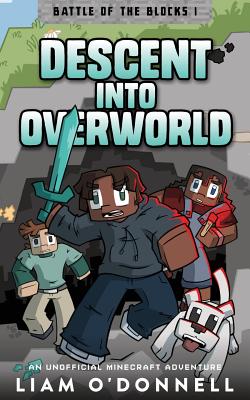 Descent Into Overworld (Paperback)
Feeding Change Media, 9780991928170, 208pp.
Publication Date: November 24, 2014
* Individual store prices may vary.
Description
Things got serious when the creeper blew up the cafeteria.
Hamid, Ant and Jaina just want to create epic builds in Minecraft. When a mysterious stranger gives them four foam swords, the three friends and their videogame-hating principal are transported into a world of blocks and thrown into an epic battle to save their favorite game.
An army of Minecraft monsters threatens to rampage across the real world, destroying neighborhoods, terrorizing families and totally giving videogames a bad name.
Together, Hamid and his friends must harness the power of their swords to fight the horde of zombies, skeletons and creepers. But first, they have to stop their principal before he makes a deal with the game's ultimate dark force to destroy Minecraft once and for all.
Grab your pickaxe, the Battle of the Blocks has begun . . .
About the Author
I'm an award-winning children's author, elementary school teacher and Minecraft fan. I've combined my love of Minecraft and passion for storytelling to create "Battle of the Blocks," an action-adventure series for fans of the blocky building game. As the author of over 35 books for kids, my stories engage even the most reluctant readers. I teach Grade 1 and run several Minecraft clubs at my school, so you know my books are fun, safe and always age-appropriate. If you're looking for ideas to get your reluctant reader diving into books, visit liamodonnell.com anytime.