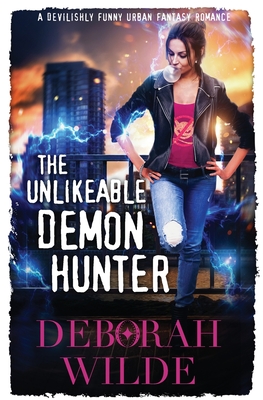 The Unlikeable Demon Hunter (Paperback)
A Devilishly Funny Urban Fantasy Romance (Nava Katz #1)
Te Da Media, 9780992070984, 426pp.
Publication Date: April 18, 2017
Other Editions of This Title:
Paperback (8/17/2018)
Paperback (6/26/2017)
Paperback (8/18/2017)
Paperback (2/20/2018)
Paperback (3/5/2019)
Paperback (10/21/2019)
Paperback (2/13/2020)
Paperback (3/1/2020)
Paperback (12/17/2019)
Paperback (11/11/2019)
Paperback (3/1/2020)
* Individual store prices may vary.
Description
An all-male brotherhood hunts demonic foes. But their biggest threat could be a foul-mouthed, romance-impaired heroine who's gonna show these boys a thing or two about how to really slay a monster...
Nava Katz cares about two things: perfecting the art of being a hot mess and her hard-working twin brother. But she accidentally torches his life-long dream when she disrupts his induction into a secret demon-hunting fraternity and steals his destiny.
Horrified she's now expected to take his place, Nava is faced with something she never wanted: a purpose.
The society isn't cool with a woman in their ranks and teams her with a surly but smoking-hot ex-rock star to keep her in line. Too bad he's exactly what Nava's always wanted: the perfect bad boy fling with no strings attached, because a hook-up with him is as dangerous as the vengeful demon out for blood-her brother's.
And Nava's the only one who can save him.
Odds of survival: meh.
Odds of a good time before she bites it: much better.
Buy The Unlikeable Demon Hunter to punch a beast in the nuts today