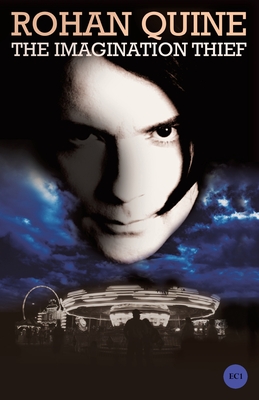 The Imagination Thief (Paperback)
Ec1 Digital, 9780992754907, 378pp.
Publication Date: January 1, 2014
* Individual store prices may vary.
Description
"The Imagination Thief" by Rohan Quine is about a web of secrets, triggered by the stealing and copying of people's imaginations and memories. It's about the magic that can be conjured up by images of people, in imagination or on film; the split between beauty and happiness in the world; and the allure of various kinds of power. It celebrates some of the most extreme possibilities of human imagination, personality and language, exploring the darkest and brightest flavours of beauty living in our minds.
Alone in his skyscraper office one night, Jaymi undergoes a transformation that will change his life: he acquires the power to see into others' minds, and then to control and project their thoughts.
Realising the potential of this gift, he hypnotises a media mogul into agreeing to broadcast an electrifying extravaganza of sound and vision emanating from Jaymi, the like of which has never been witnessed before, that will captivate millions. However, one of the mogul's underlings has more subversive plans for milking Jaymi's talent, involving the theft of others' imaginations and intimate memories for commercial gain.
The broadcasting of his visions plunges Jaymi and his best friend Alaia on a journey into the underbelly of Asbury Park - a seaside town once full of life but now half-forgotten. The town's entire oceanfront is now almost a ghost town: ruled by gangsters and drug dealers, headed by Lucan, it is populated by lost souls and the beautiful who have fallen on hard times. Blackmailed into thieving the most private and primal memories and experiences from these people's imaginations, Jaymi discovers a web of secrets and provocations simmering beneath the surface of the town, about to explode.
When a waxwork of Lucan's decapitated head is anonymously planted in his own bar, fear bubbles up, as everyone becomes a suspect in this unforgivable challenge to Lucan's dominance. Then when another provocative waxwork appears - a naked full-body modelling of Lucan's beautiful but tortured lover, Angel - Jaymi knows he must use his own gift to discover the perpetrator before Lucan does.
Delving into and celebrating the most beautiful and extreme possibilities of human imagination, personality and love, "The Imagination Thief" is literary fiction, with a touch of magical realism and a dusting of horror. It explores the universal human predicaments of power, beauty, happiness, hopelessness, good and evil.
Keywords: Asbury Park, New York, broadcast, contemporary, dark fantasy, gay, horror, imagination, literary fiction, magical realism, psychic, transgender.
About the Author
Rohan's novel "The Imagination Thief" was published by EC1 Digital and the Firsty Group in 2013, as an ebook that includes film and audio and photographic content in conjunction with the novel's text. It was then published by EC1 Digital as a paperback in 2014. See http: //www.rohanquine.com/press-media/the-imagination-thief-reviews-media/ for interviews and some nice reviews in "The Guardian" and elsewhere. Four novellas by Rohan, entitled "The Platinum Raven," "The Host in the Attic," "Apricot Eyes" and "Hallucination in Hong Kong," were published by EC1 Digital in 2014, as four separate ebooks and also collected into one paperback entitled "The Platinum Raven and other novellas." See http: //www.rohanquine.com/press-media/the-novellas-reviews-media/ for reviews and interviews relating to these novellas. All five are literary fiction, with elements of magical realism and a dusting of horror. Rohan grew up in South London, spent a couple of years in L.A. and then a decade in New York, where he ran around excitably, saying a few well-chosen words in a handful of feature films and TV shows (see http: //www.rohanquine.com/those-new-york-nineties/), modelling in a few places and drinking deep in many more places. He's now living back in East London, as an Imagination Thief. He aims to push imagination and language towards their extremes, in order to explore and illuminate the beauty, horror and mirth of this predicament called life, where we seem to have been dropped without sufficient consultation ahead of time.