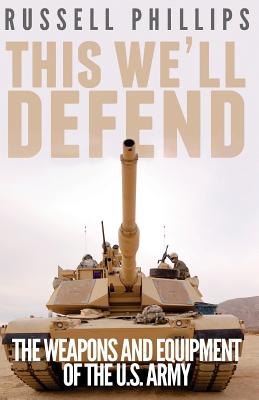 This We'll Defend
The Weapons and Equipment of the U.S. Army
Paperback

* Individual store prices may vary.
Description
The U.S. Army is the best-equipped force in military history, from the simple bayonet to multi-million-dollar technological marvels like the M1 Abrams tank and Apache Longbow helicopter.
This We'll Defend outlines the most important weapons and equipment the Army currently uses. All facts, figures and images in this ebook are direct from publicly available Army sources, edited and annotated to form a short, easy-to-use but comprehensive reference.
Included:
Tracked Vehicles
Individual and Crew-Served Weapons
Aircraft
Air Defence Artillery
Anti-Armour Weapons
Indirect Fire Systems
Nuclear, Biological and Chemical (NBC) Defence Equipment
Wheeled Vehicles
With Shilka Publishing's Digital Reinforcements, buy the print edition, and get the ebook FREE. Details at www.shilka.co.uk/dr
Shilka Publishing, 9780992764814, 124pp.
Publication Date: December 13, 2013
About the Author
Born and brought up in a mining village in South Yorkshire, Russell Phillips has lived and worked in South Yorkshire, Lincolnshire, Cumbria and Staffordshire. His articles have been published in Miniature Wargames, Wargames Illustrated, and the Society of Twentieth Century Wargamers' Journal. He has been interviewed for the American edition of The Voice of Russia. He currently lives in Stoke-on-Trent with his wife and two children.