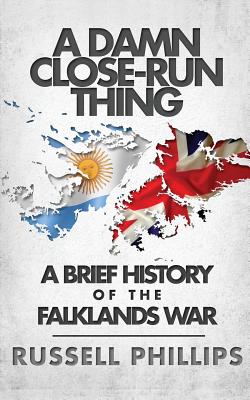 A Damn Close-Run Thing
A Brief History Of The Falklands War
Paperback

* Individual store prices may vary.
Other Editions of This Title:
Paperback, Large Print (9/17/2014)
Description
In 1982, the average Briton didn't know the Falkland Islands existed, let alone their status as a disputed British territory just off the coast of Argentina. That changed when the Argentinians invaded the islands and overwhelmed the small defending force. Both nations claimed the islands were theirs, but now Argentina thought the British would give them up without a fight.
They were wrong.
Britain sent a task force into the South Atlantic to re-take the islands, and the short, intense war that followed was--in the words of Major-General Sir John Jeremy Moore--"a damn close-run thing."
This short history sums up the events leading up to the war and its major military actions including details of an Argentinian plan to sink a Royal Navy ship in Gibraltar harbour (foiled at the last minute by Spanish police) and an audacious British plan to land SAS soldiers in Argentina to destroy Exocet-carrying aircraft while they were still on the ground.
With Shilka Publishing's Digital Reinforcements, buy the print edition, and get the ebook FREE. Details at www.shilka.co.uk/dr
Shilka Publishing, 9780992764869, 110pp.
Publication Date: July 2, 2014
About the Author
Born and brought up in a mining village in South Yorkshire, Russell Phillips has lived and worked in South Yorkshire, Lincolnshire, Cumbria and Staffordshire. His articles have been published in Miniature Wargames, Wargames Illustrated, and the Society of Twentieth Century Wargamers' Journal. He has been interviewed for the American edition of The Voice of Russia. He currently lives in Stoke-on-Trent with his wife and two children.