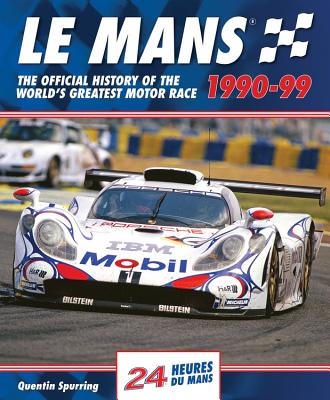 Le Mans 1990-99
The Official History Of The World's Greatest Motor Race
Hardcover

* Individual store prices may vary.
Other Editions of This Title:
Hardcover (9/15/2014)
Hardcover (9/15/2014)
Hardcover (9/15/2014)
Description
Officially endorsed by the ACO, the organisers of the annual Le Mans 24 Hours race, this sumptuous book is the fifth title in a decade-by-decade series that is building up into a multi-volume set covering every race since 1923. Each year is exhaustively covered in vivid photographs, a detailed and insightful commentary, full results data and a glorious rendering of the official race poster, the whole work providing coverage that far exceeds any previous books in quality, depth and authority. Compiled by an acknowledgedexpert on this legendary race, this series of books is treasured by all enthusiasts of sports car racing.
- Highly detailed year-by-year coverage of the decade's ten races, giving over 32 pages of information and photographs for each year.
- Official status provides a number of unique features, including the reproduction of the full-color race poster artwork for each year and photographs from the ACO's archives.
- The images are entirely in colour, and the emphasis is on photographs that enthusiasts will not have seen before.
- The story of each race is told through photographs and an accompanying commentary.
- Complete data for each year includes technical regulations, entry list, circuit changes (with diagram), lap chart, full results and category awards.
- The whole work is beautifully designed and presented.
- The 1990s was a richly varied decade, with winning cars from a wide range of manufacturers: Jaguar, Mazda, Peugeot, Dauer, McLaren, Porsche and BMW.
Evro Publishing Limited, 9780992820916, 384pp.
Publication Date: October 1, 2014
About the Author
A past editor of Autosport, the world's top motorsports weekly, Quentin Spurring has a long-held passion for the Le Mans 24 Hours – he has reported from the race 26 times – and is the ideal author for this series of officially endorsed books. In addition to his books in this Le Mans series (1923-29, 1930-39, 1949-59, 1960-69, 1970-79, 1980-89 and 1990-99) , he has written books about Jim Clark, Gilles Villeneuve and Ronnie Peterson, and his book Grand Prix: Images of the First 100 Years, from David Bull Publishing, won an award from the American Publishers Association (APA). He has been the European Motorsport Correspondent of the US publication, AutoWeek, since 1982.