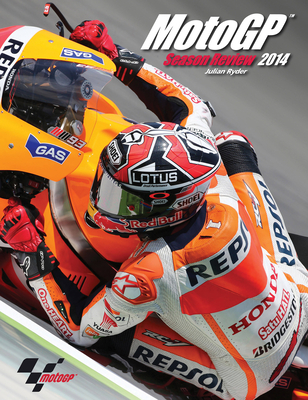 Official MotoGP Season Review 2014 (Hardcover)
Evro Publishing Limited, 9780992820985, 208pp.
Publication Date: January 26, 2015
Other Editions of This Title:
Hardcover (3/1/2017)
Hardcover (11/1/2006)
Hardcover (6/15/2016)
Hardcover (2/1/2013)
* Individual store prices may vary.
Description
The definitive and lasting record of MotoGP motorcycle racing in 2014 published with all the behind-the-scenes access that comes with official status from MotoGP's organizing body.
Now in its 11th year of publication, this officially endorsed book provides comprehensive coverage of MotoGP World Championship motorcycle racing in 2014, complete with race reports, comment, analysis and statistics, edited by TV commentator Julian Ryder. Supporting Ryder as lead author, Neil Spalding provides detailed technical analysis - including a special feature about Ducati - and Mat Oxley summarizes the season with his usual thought-provoking insights, while the book's superb photography is by Andrew Northcott. The supporting categories - Moto2, Moto3 and Red Bull Rookies - are covered in full, along with the activities of Riders for Health, the official charity of MotoGP.
Eight-page reports of each MotoGP race, complete with full statistics and lap-chart graphics.
In-depth technical analysis of the year's talking points from leading MotoGP technical expert Neil Spalding.
Ducati's progress in 2014, under the leadership of new chief engineer Gigi Dall'Igna, is the subject of a special technical feature.
The unique 'Rider's Rider of the Year' poll ranks the year's contenders according to votes by the riders themselves.
Superb photography by Andrew Northcott captures all the excitement, action and atmosphere of motorcycle racing at its best.
Supporting Moto2 and Moto3 categories covered in full, as well as the Red Bull Rookies races.
Riders for Health, the official MotoGP charity, reports on its achievements in 2014.
Officially endorsed by DORNA, organizers of MotoGP.
About the Author
Julian Ryder has been a motorcycle journalist since 1980 and editor of the Official MotoGP Season Review since its inception in 2004. In the late 1980s Julian was running Road Racer magazine when he was invited to Eurosport's studios to see a motorcycle Grand Prix being broadcast. The regular commentator was stranded at another event so the producer gave Julian the microphone. From then on commentating has been mixed with writing and nowadays Julian is on BT Sport's MotoGP commentary team. From 1993 to 2000 Julian was a member of the Sky Sports team that brought the golden era of World Superbike and Carl Fogarty's championships to British bike fans. In 2001 he moved to Eurosport to commentate on the last year of 500cc Grand Prix racing and then 12 seasons of MotoGP. Julian transferred to the top class of racing at the same time as Valentino Rossi burst on to the scene and he has commentated on all of Rossi's races since then. Julian's books include Honda's V-Force and an official biography of Carl Fogarty.
Neil Spalding writes about technical aspects of MotoGP for a selection of motorcycle magazines and newspapers throughout the world as well as for the Official MotoGP Season Review. He is also the author of the critically acclaimed book MotoGP Technology. When not at the circuits Neil runs Sigma Performance, which designs and sells slipper clutches for racing motorcycles.
Mat Oxley is an Isle of Man TT winner and lap record holder. He has been writing about motorcycle racing for magazines and newspapers since the late 1980s, and his books include acclaimed biographies of Valentino Rossi and Mick Doohan, plus the Cold War motorsport spy story Stealing Speed. His contribution to the Official MotoGP Season Review is a typically insightful summary of the season as a whole.
Praise For Official MotoGP Season Review 2014…
"Like most fans, we can't get enough of Julian Ryder via his Ryder Notes column here on the 'planet. Julian's vast experience, sage thoughts and training as an actual journalist make his columns and annual season review a "must read" for MotoGP fans. Ryder's official '14 MotoGP Season Review is packed full--seriously--of depth, observations and facts. The book covers MotoGP from all angles, from the human to the political to the technical. With a new publishing company on board for 2014 we wondered if Ryder's paper-published observations might be tempered slightly. No fear--his most recent effort is actually more amazing than what we've seen from this book previously. As we've said before, Ryder's season review is better than any YouTube video, more in-depth than any weak tweet and offers more solid info than any purported MotoGP iPad app." - SuperbikePlanet.com
or
Not Currently Available for Direct Purchase