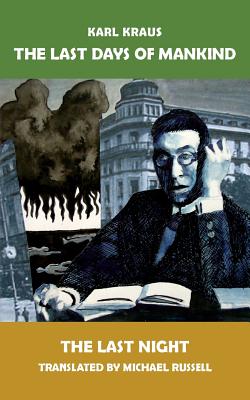 The Last Days of Mankind (Paperback)
The Last Night
Forgotten Cities Press, 9780992905927, 126pp.
Publication Date: April 24, 2014
Other Editions of This Title:
Paperback (2/11/2016)
Hardcover (11/24/2015)
* Individual store prices may vary.
Description
Until now, there has never been a full, accurate English translation of the epilogue to The Last Days of Mankind, German playwright Karl Kraus's early twentieth-century satirical play about the First World War. Yet the play's importance and influence is widely acknowledged and celebrated in Europe, for its uncompromising examination of human folly in the face of war and as a unique act of creativity and imagination, opening drama up to new challenges, techniques, and possibilities.
This translation is of the play's verse epilogue, The Last Night, which is a standalone work, and in many ways a distillation of all the material preceding it. A general flees the battlefield, representing all generals and military leaders. War correspondents trying to interview and photograph a dying man represent all war correspondents. Everything that took place in the main work reappears in this epilogue's verse in a moving and compelling summation.
This translation of The Last Night aims to introduce English-speaking readers to Kraus's great play for the first time in one hundred years, and to offer an annotated edition of the text for those who want to use it as a starting point for exploring Kraus's rich, disturbing, and profound world.
About the Author
Michael Russell has had a long career in television drama, and he is the author of the Stefan Gillespie series of historical detective novels, The City of Shadows and The City of Strangers. He studied English and medieval languages at Oxford and currently lives in West Wicklow, Ireland.