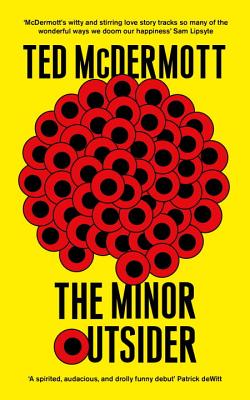 The Minor Outsider (Paperback)
ONE / Pushkin, 9780992918279, 224pp.
Publication Date: June 27, 2017
Other Editions of This Title:
MP3 CD (7/4/2017)
* Individual store prices may vary.
Description
Ed and Taylor, both aspiring young writers, fall in love during a summer of aimless drinking and partying in their university town of Missoula, Montana. Lonely and looking for love, they connect despite their profound differences: Ed is brooding, ambitious and self-destructive, living in denial of a mysterious tumour spreading from his limbs to his brain. Beautiful Taylor is positive, full of hope and emotional generosity, but like everyone, she has her limits. Their difficult relationship is intense, exciting yet doomed from the start, complicated further when Taylor falls pregnant. As Ed resists the harmony she brings to his life, Taylor's need to protect herself and their child also grows, until a dramatic finale.


Ted Mc Dermott's stark book speaks truthfully and with a touch of dark humor for and to today's generation of young people trying to find hope in what feels to many like an existential void. The Minor Outsider will be read as the young literary voice of our dark times.
About the Author
Ted McDermott was born in Delaware in 1982, grew up in South Carolina. He has worked as a cook, a mover, a baker, a college instructor, an encyclopedist and a reporter for an alternative weekly. His fiction and non-fiction have appeared in VICE, Believer, Portland Review, Minus Times and elsewhere. In 2009, he was nominated for The Essay Prize. The Minor Outsider is his first novel.
Praise For The Minor Outsider…
"Darkly funny. . . McDermott's seemingly disaffected prose is not just a comic technique; it shrewdly reflects Ed's mental state, his coping mechanisms. . . This is a surprising, smart, and memorable novel." — Publishers Weekly

"McDermott writes about academia and small-town America with an enjoyable mix of cynicism and affection... a hip, touching and thoroughly readable story that presents young adulthood as a frustrating, alien place." - Guardian

"Darkly comic." — Montana Standard

"McDermott has written a novel that is raw, yet refined. The characters are full of contradictions, absurdities, cynicism and affection. While flawed, the characters are relatable and engaging. Their stories and experiences drive the plot with a simple ease. He has written a story that many readers will know, or at the very least, be familiar with. Essentially, McDermott has successfully captured a glimpse of what it is like to be a young, privileged, creative type in small-town America." — Missoulian

"McDermott is sharp on the indulgences of the creative set and, above all, portraying the life of many young men - drifting, hard to reach, doomed to try to make sense of a world that resists all explanation and interpretation." - Financial Times

"There is a Russian-roulette effect to the storytelling that will keep readers turning the page... impressive, focusing on life's contradictions and absurdities." - Irish Times

"Vivid, fast-paced prose... a fresh, spirited debut set against a stunning backdrop." - Big Issue in the North

"Quite brilliant. An honest unflinching account of a man and his frailties." - Irish Examiner

"Marks the emergence of a formidable talent... [Ted McDermott] demonstrates a vision that leaves the reader eager for more." - The Lady

"A major debut. McDermott's witty and stirring love story tracks so many of the wonderful ways we doom our happiness. It's thrillingly sad! And quite funny." - Sam Lipsyte, author of The Ask

"A round of applause for Ted McDermott, please. He's earned it. The Minor Outsider is a spirited, audacious, and drolly funny debut novel." — Patrick deWitt, author of The Sisters Brothers and Undermajordomo Minor

 "Let me tell you what I love about this book: It's unflinching honesty. How many books can you say this about? The Minor Outsider may be a first novel, but there's a lifetime of observation behind it. Ted McDermott knows us - all our flaws, all our vanities, and yes, all the little things that make our hearts leap. As humane a new book as I've read in a long, long time." - Peter Orner

"Wry, sharp-eyed, fresh as mountain air." — Jonathan Trigell, author of Boy A and Genius
or
Not Currently Available for Direct Purchase