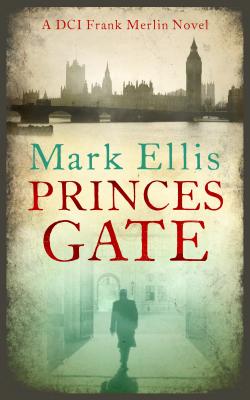 Princes Gate
A DCI Frank Merlin Novel
Paperback

* Individual store prices may vary.
Other Editions of This Title:
Compact Disc (4/6/2021)
Paperback (9/11/2018)
MP3 CD (8/9/2016)
Description
Princes Gate is the first in a new series of crime thrillers that involve DCI Frank Merlin. These atmospheric books are set in wartime London mixing historical and fictional characters and featuring a charismatic and intriguing half-Spanish detective. When a brilliant emigré scientist is killed by a hit and run driver and a young woman's body is washed up in the Thames, Merlin and his team must investigate. The woman is an employee of the American Embassy, whose Ambassador at this time is Joseph Kennedy. DCI Merlin's investigation of diplomats at the Embassy ruffles feathers at the Foreign Office - the American Ambassador is a well-known supporter of appeasement and many powerful and influential Britons favour the pursuit of a negotiated peace settlement with Hitler. The death of another Embassy employee leads Merlin into some of the seedier quarters of wartime London where a corrupt night-club owner, various high-flying diplomats and the Ambassador himself appear to be linked to the events surrounding the deaths. Merlin has to pursue his detective work under the interfering supervision of an Assistant Metropolitan Commissioner who is fearful about the impact of Merlin's investigations on Anglo-American relations at a time when America represents to many Britain's only hope of salvation. Capturing the atmosphere of Britain in 1940 during the 'phoney war' when, although war rages on the Continent, life continues relatively peacefully in Britain, Princes Gate is an enthralling detective novel.
Praise For Princes Gate: A DCI Frank Merlin Novel…
"This exciting, very well plotted and historically evocative story drives forward to its gripping conclusion. Frank Merlin is a lovely creation and totally convincing even down to the hole in his shoe. He is the English-born son of a Spanish migrant who decided to change his surname from 'Merino' to that of one of his favourite Arthurian legends. I lost myself in this thriller . . . superb entertainment." — Eurocrime

"The strength of this story is in the characterisation, and Mark Ellis clearly enjoys writing about criminals and sleaze balls of all levels who are out for their own ends and don't give a stuff about the war. Set in London, in January 1940, we are quickly propelled into the atmosphere and feel of desperation." — Shots Magazine
London Wall Publishing, 9780992994389, 288pp.
Publication Date: November 1, 2016
About the Author
Mark Ellis is a UK thriller writer and a former barrister and entrepreneur. 

He is the creator of DCI Frank Merlin, an Anglo-Spanish police detective operating in World War 2 London. His books treat the reader to a vivid portrait of London during the war skilfully blended with gripping plots, political intrigue and a charismatic protagonist. 

Mark grew up under the shadow of his parents' experience of the Second World War. His father served in the wartime navy and died a young man. His mother told him stories of watching the heavy bombardment of Swansea in Wales from the safe vantage point of a hill in Llanelli, and of attending tea dances in wartime London under the bombs and doodlebugs.

In consequence Mark has always been fascinated by WW2 and in particular the Home Front and the fact that while the nation was engaged in a heroic endeavour, crime flourished. Murder, robbery, theft and rape were rife and the Blitz provided scope for widespread looting.

This was an intriguing, harsh and cruel world. This is the world of DCI Frank Merlin.

He is a member of the Crime Writers Association.
or
Not Currently Available for Direct Purchase