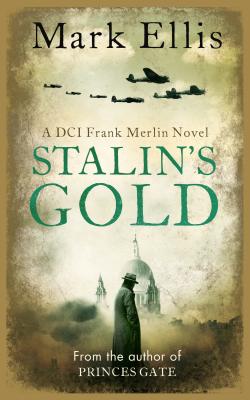 Stalin's Gold
A DCI Frank Merlin Novel
Paperback

* Individual store prices may vary.
Other Editions of This Title:
Compact Disc (2/2/2021)
MP3 CD (8/9/2016)
Paperback (9/11/2018)
Description
December 1938. Moscow. Josef Stalin has lost some gold. He is not a happy man. He asks his henchman Beria to track it down. September 1940 London. Above the city the Battle of Britain rages and the bombs rain down. On the streets below, DCI Frank Merlin and his officers investigate the sudden disappearance of Polish RAF pilot Ziggy Kilinski while also battling an epidemic of looting unleashed by the chaos and destruction of the Blitz. Kilinski's fellow pilots, a disgraced Cambridge don, Stalin's spies in London, members of the Polish government in exile and a ruthless Russian gangster are amongst those caught up in Merlin's enquiries. Sweeping from Stalin's Russia to Civil War Spain, from Aztec Mexico to pre-war Poland, and from Hitler's Berlin to Churchill's London a compelling story of treasure, grand larceny, treachery, torture and murder unfolds. Eventually as Hitler reluctantly accepts that the defiance of the RAF has destroyed his chances of invasion for the moment, a violent shoot-out in Hampstead leads Merlin to the final truth....and Stalin to his gold. Stalin's Gold is the latest in the Frank Merlin Series, and follows on from Princes Gate.
Praise For Stalin's Gold: A DCI Frank Merlin Novel…
"Masterly. . . compelling. . . one of the most attractive characters to emerge in recent detective-thriller fiction."  — Andrew Roberts, bestselling historian

"I found it very difficult to put this very gripping story down until the extraordinary end. . . I look forward hopefully to reading many more books by this very gifted author. Strongly recommended." — Eurocrime
London Wall Publishing, 9780992994396, 320pp.
Publication Date: November 1, 2016
About the Author
Mark Ellis is a UK thriller writer and a former barrister and entrepreneur. 

He is the creator of DCI Frank Merlin, an Anglo-Spanish police detective operating in World War 2 London. His books treat the reader to a vivid portrait of London during the war skilfully blended with gripping plots, political intrigue and a charismatic protagonist. 

Mark grew up under the shadow of his parents' experience of the Second World War. His father served in the wartime navy and died a young man. His mother told him stories of watching the heavy bombardment of Swansea in Wales from the safe vantage point of a hill in Llanelli, and of attending tea dances in wartime London under the bombs and doodlebugs.

In consequence Mark has always been fascinated by WW2 and in particular the Home Front and the fact that while the nation was engaged in a heroic endeavour, crime flourished. Murder, robbery, theft and rape were rife and the Blitz provided scope for widespread looting.

This was an intriguing, harsh and cruel world. This is the world of DCI Frank Merlin.

He is a member of the Crime Writers Association.