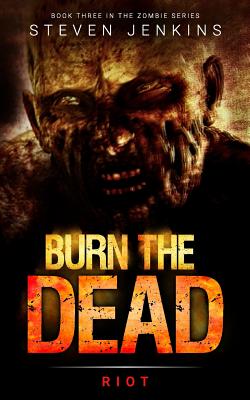 Burn The Dead
Riot (Book Three In The Zombie Saga)
Paperback

* Individual store prices may vary.
Other Editions of This Title:
Paperback (10/12/2015)
Paperback (8/15/2015)
Description
A sold-out stadium.A virus unleashed.
For 17-year-old Alfie Button, today was always going to be a memorable day.
The cheers of excited fans soon become desperate, bloodcurdling cries for help as a legion of the undead overwhelms the stadium. Panic erupts as 21,000 people rush for the exits, only to find them sealed.
With nowhere to run, suffocating in a torrent of blood and chaos, all Alfie and his friends can do is fight for survival-and pray that help will come.
But in every game, in every stadium...
There has to be a loser.
"I love the world the author has created-lots of action and real characterization."
JAMIE WHITE - Author of The Stains Trilogy
Different Cloud Publishing, 9780993283673, 232pp.
Publication Date: March 15, 2016
About the Author
Steven Jenkins was born in the small Welsh town of Llanelli, where he began writing stories at the age of eight, inspired by '80s horror movies and novels by Richard Matheson. During Steven's teenage years, he became a great lover of writing dark and twisted poems-six of which gained him publications with Poetry Now, Brownstone Books, and Strong Words. Over the next few years, as well as becoming a husband and father, Steven spent his free time writing short stories, achieving further publication with Dark Moon Digest. And in 2014 his debut novel, Fourteen Days was published by Barking Rain Press.