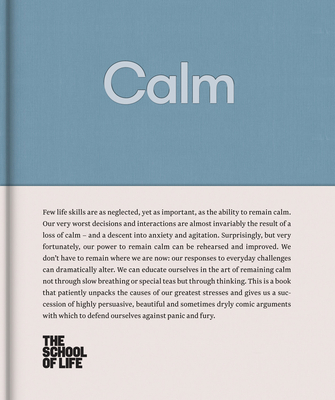 Calm
Hardcover

* Individual store prices may vary.
Description
A guide to developing the art of finding serenity, not through meditation, but through understanding the sources of our anxiety and frustrations.
Few life skills are as neglected, yet as important, as the ability to remain calm. Our very worst decisions and interactions are almost invariably the result of a loss of calm - and a descent into anxiety and agitation. Surprisingly, but very fortunately, our power to remain calm can be rehearsed and improved. We don't have to stay where we are now: our responses to everyday challenges can dramatically alter.
We can educate ourselves in the art of keeping calm not through slow breathing or special teas but through thinking. This is a book that patiently unpacks the causes of our greatest stresses and gives us a succession of highly persuasive, beautiful and sometimes dryly comic arguments with which to defend ourselves against panic and fury.
School of Life, 9780993538728, 136pp.
Publication Date: September 4, 2018
About the Author
The School of Life is a global organization helping people lead more fulfilled lives. Through our range of books, gifts and stationery we aim to prompt more thoughtful natures and help everyone to find fulfillment. The School of Life is a resource for exploring self-knowledge, relationships, work, socializing, finding calm, and enjoying culture through content, community, and conversation. You can find us online, in stores and in welcoming spaces around the world offering classes, events, and one-to-one therapy sessions. The School of Life is a rapidly growing global brand, with over 7 million YouTube subscribers, 389,000 Facebook followers, 239,000 Instagram followers and 163,000 Twitter followers. The School of Life Press brings together the thinking and ideas of the School of Life creative team under the direction of series editor, Alain de Botton. Their books share a coherent, curated message that speaks with one voice: calm, reassuring, and sane.