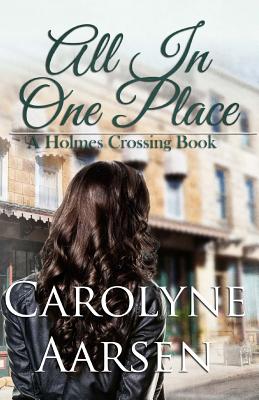 All in One Place (Paperback)
Carolyne Aarsen, 9780994049827, 296pp.
Publication Date: January 21, 2016
* Individual store prices may vary.
Description
Terra Froese would never win Citizen of the Year and that's fine with her. She lives life on her own terms, bouncing from job to job and going her own way. But when a relationship goes sour she heads out of the city and across the country to find temporary refuge with her sister, Leslie. She figures Leslie might be able to help her sort out her life, though Terra still can't figure out what her career driven, city sister is doing living out on a farm of all places. Terra takes her own emotional baggage on her trip to her sister, hoping to dump it somewhere along the way. But when she is forced to stay in Holmes Crossing, Terra has to come face to face with her past and the decisions that haunt her still. "I literally could not put this book down. A poignant, touching story that made me reassess the way I view the lost souls who wander across might. You have to read this book." Colleen Coble, author of The Inn at Ocean's Edge "With sure, strong strokes and a touch of humor, Carolyne Aarsen paints an intriguing portrait of a woman on the run, a sister who's settled in, and a town as rugged as the people who populate it. You'll know you're in the hands of a master storyteller within the first few pages of All In One Place." Angela Hunt, author of the Reluctant Beauty series.
About the Author
Carolyne Aarsen, originally a city girl, was transplanted to the country when she married her dear husband Richard. While raising four children, foster children, and various animals Carolyne learned how to sew blue jeans, handle cows, drive tractors, snow machines, ride a horse, and train a colt. Somewhere in all this she learned to write. Her first book sold in 1997 and since then has sold almost fifty books to three different publishers and has recently branched out into self publishing as well. Her stories show a love of open spaces, the fellowship of her Christian community.
or
Not Currently Available for Direct Purchase