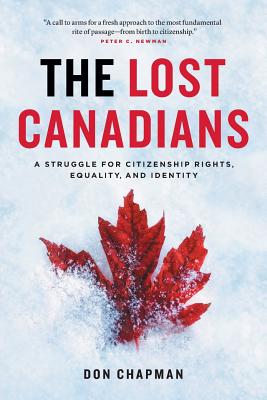 The Lost Canadians (Paperback)
A Struggle for Citizenship Rights, Equality, and Identity
Donald Lloyd Chapman, 9780994055408, 444pp.
Publication Date: May 16, 2015
* Individual store prices may vary.
Description
When Vancouver-born Don Chapman was six years old, he was stripped of his Canadian citizenship, thanks to an arcane provision of the 1947 Canadian Citizenship Act. Years later, he was stunned to discover that he couldn't return to his homeland, and thus began his David and Goliath battle to change Canada's discriminatory citizenship laws. He's since become the voice for hundreds of thousands of others like himself, now collectively known as the Lost Canadians, whose ranks have included such Canadian icons as Romeo Dallaire, Guy Lombardo, Leslie Nielsen, Ricky Gervais, and Nobel Prize winners Willard Boyle and Saul Bellow. Children born on military bases overseas were affected, as were tens of thousands of Second World War brides and their children. Perhaps the most stunning of all: Canada doesn't recognize some living Second World War veterans as citizens. In riveting, hard-hitting prose, Chapman describes his fight to rectify this deep social injustice. He renders in heartbreaking detail the stories of Lost Canadians who've had their identities torn from them, thanks to labyrinthine legislation, bumbling bureaucracy, disinterested politicians, and a complacent media. After decades, Don's quest has restored citizenship to around one million people. DON CHAPMAN was born in Vancouver, B.C., but lost his Canadian citizenship 
as a six-year-old. He's been fighting the government ever since, becoming the face of the Canadian citizenship rights movement. He coined the phrase "Lost Canadians" that is now used widely to describe other Canadians in his position. He has testified several times before both the House and Senate, and has been interviewed by major media outlets around the world, including CBC television and radio, CTV, Maclean's, the National Post, the BBC, Le Monde, The Economist, Reader's Digest, the Wall Street Journal, and the Aboriginal Peoples Television Network. He's also spoken at various universities and organizations worldwide. Chapman is a United Airlines pilot, currently on leave. He blogs at www.lostcanadian.com.